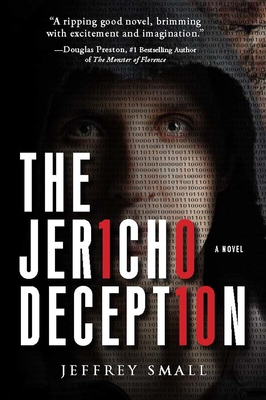 The Jericho Deception
Paperback

* Individual store prices may vary.
Description
A heart-stopping thriller into the nexus between spirituality, neuropsychology, and international politics. What if you controlled the power to see God? Yale neuroscientist Dr. Ethan Lightman is on the verge of a ground-breaking discovery. A discovery that will solve a mystery that has haunted him since childhood. A discovery that will alter humanity's relationship with religion forever. Ethan's invention, the Logos machine, has the power to produce religious ecstasy, but it may also cause madness. When a colleague is brutally murdered, Ethan and Rachel Riley, a brilliant and beautiful graduate student, are thrust into a web of treachery that takes them deep into the Egyptian desert and to Project Jericho: a top-secret CIA program run by a mysterious doctor. As Ethan learns how his research has been perverted, he and Rachel race to unlock the Logos machine's secrets before Project Jericho launches a modern Holy War. Along the way, he must confront a suppressed secret from his past that defines his very being.
Praise For The Jericho Deception…
Gold Medal for Best Suspense Fiction 2013
Independent Publisher Book Awards (IPPY Awards)

[A] gripping thriller with a provocative premise.a fast-paced, intelligent read.
Arts ATL

"Small's latest novel (The Breath of God, 2011, etc.) expertly blends cutting-edge neurology and religious identity in a kinetic, engrossing thriller.A must-read for thriller fans, featuring well-defined characters and thought-provoking concepts."
Kirkus

Its a page turner. It's one of those books that you pick up and by the time you finish you feel you have had a wonderful experience.I enjoyed it so much.I can see the movie now.
James Taylor, Writers in Focus TV

"The Jericho Deception spins out a brilliant, plausible premise into a ripping good novel, brimming with excitement, imagination, vivid settings and personable characters. Highly recommended."
Douglas Preston, #1 best-selling author of The Monster of Florence

"This one pushes the envelope to the edge and beyond, captivating with plausibility and imagination. A gritty thriller with plenty of meat on its bones."
Steve Berry, New York Times best-selling author of The King's Deception

"The Jericho Deception is a blisteringly original, wondrously structured descent into a literal and figurative hell. Jeffrey Small's stellar tale of murder, treachery and international daring-do breathes new life into the moribund religious thriller genre as it blends science seamlessly with superstition. A high-tech Da Vinci Code on steroids, only better written."
Jon Land, bestselling author of Pandora's Temple

"Chock full of fascinating insider detail, The Jericho Deception is a thrilling roller-coaster ride into the beauty and darkness of the human mind. With muscular prose and a high quotient of believability, you'll be riveted watching scientists, politicians, and spies vie for control of the Logos machine. Send out for food. You won't want to stop reading." -- Gayle Lynds, New York Times bestselling author of The Book of Spies

"[A] fascinating look at the influence religion has over humanity. Small has taken a deeply divisive subject and weaved a fascinating novel that is well-written and compelling."
Mysteries Galore.com

"..lauded as a ripping good novel" by #1 bestselling author Douglas Preston. And I have to say, having read it myself, Doug knows what he's talking about."
the big THRILL

"The Jericho Deception is a super thriller......exhilarating tale. Readers will enjoy this taut religious suspense while looking up those factual entities that make Jeffrey Small's saga superbly fresh."
Midwest Book Review

"Totally riveting! A fast-paced thriller filled with secret operations, greed, deception, and more.."
FreshFiction.com

"This mystery thriller will have you turning pages until the very last....a hold-your-breath thrill."
Arab Vistas Today
West Hills Press, 9781933512440, 416pp.
Publication Date: April 30, 2013
About the Author
Jeffrey Small is the author of the award-winning bestseller, The Breath of God. Small's critically acclaimed debut novel won the Nautilus Book Award Gold Medal for Best Fiction and was hailed as "a thought-provoking masterpiece" by RT Book Reviews, "visionary fiction" by Library Journal, and "a fast-paced adventure" by Kirkus. A popular speaker on religion and spirituality, Small holds degrees from Yale, Harvard, and Oxford Universities. He lives with his wife and daughter in Atlanta.