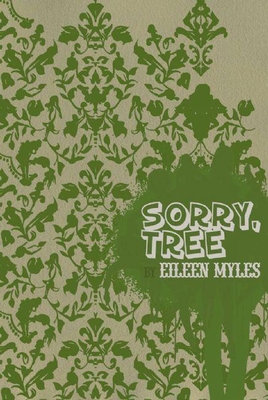 Sorry, Tree (Paperback)
Wave Books, 9781933517209, 83pp.
Publication Date: April 1, 2007
* Individual store prices may vary.
Description
"One of the savviest and most restless intellects in contemporary literature--honest, jokey, paranoid, sentimental, mean, lyrical, tough, you name it."--Dennis Cooper
Eileen Myles has written thousands of poems since she gave her first reading at CBGB in 1974. BUST magazine calls her "the rock star of modern poetry" and The New York Times says she's "a cult figure to a generation of post-punk females forming their own literary avant garde."
Myles' trademark punk-lesbian sensibility and intimate knowledge of poetic tradition are at work in this eighth collection, where every love poem is political, and every political poem is, ultimately, about love.
From "Home"
I thought if
I inventoried home it would be broad
my eyes fling open
like a doll's
to the virtual space that suddenly
resembles the walls
the most interesting artists are large;
monsters
while the people we know are
masses of flowers
& when I turn
on my cellphone I see
everyone
Eileen Myles has published over a dozen books of poetry, prose, and plays. Formerly the director of the St. Mark's Poetry Project, as well as a write-in candidate for president in 1992, in 1997 Myles toured with Sister Spit's Ramblin' Road Show. Her books include Snowflake/different streets, Inferno, The Importance of Being Iceland, Skies, Maxfield Parrish, Not Me, and Chelsea Girls (stories).
About the Author
Eileen Myles was named the 2010 Shelley Memorial Award winner, with Kenneth Irby, by the Poetry Society of America, received the 2011 Lambda Literary Award for Lesbian Fiction for her novel Inferno. She has published over a dozen books of fiction, poetry and plays and has been a major figure in New York's literary scene for decades.
Praise For Sorry, Tree…
"Myles is a poet with a history who writes about history, her personal history and our political history, and how the two intertwine and can't be separated, even if we might want them to." Kathleen Rooney, Open Letters

"Sorry, Tree is a...funny title for a book. Especially for a book of poetry, that nervous species of writing that sometimes wonders whether it's worth the paper it's printed on. And especially for a book by Eileen Myles, whose poetry -whether it's about being lovesick or on a boat full of barfing people or surrounded by conservative zealots - is the opposite of apologetic. Historically speaking, Myles is the last stop of the New York School and the beginning of punk-rock poetry." Brenden Kiley, The Stranger

"Myles' poems feel as though they were written while moving and they're good. The poems travel distances in line breaks and between words. The language has a pulse..." Gina Myers, Octopus Magazine

"Sorry, Tree is flat out a terrific book, joining what seem to be the simplest personal poems with a poetic craft that dazzles." Ron Silliman