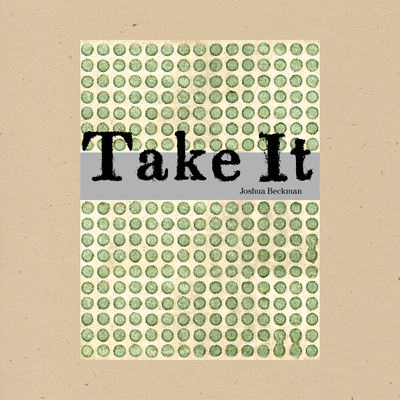 Take It
Paperback

* Individual store prices may vary.
Description
"His voice finds shape within every fragment. It is a voice that is at once forlorn and passionate and preoccupied with beauty. . . . Joshua Beckman's poetry wears its heart on its sleeve."--Slope
"Through repetition, rhythm, and a pervasively taut but accessible voice, Beckman sweeps us through his poems."--Rain Taxi
One of poetry's genuinely necessary voices, Joshua Beckman offers a magnanimous vision of the poetic and social landscape, masterfully combining traditional and contemporary concerns and speech patterns in attending to a degraded, yet wondrous world. Take It is a gift of profound generosity.
I feel now like I am saying sorry for something, when
what I am saying here is that the unknowing spirit is
greater than the knowing spirit, that no matter what
emboldened structure descends to stand before you
in its plan and fullness, you do not know what it is.
Joshua Beckman was born in New Haven, Connecticut. He is the author of Shake (Wave Books, 2006), multiple collections of collaborative work, and numerous translations. He lives in both Brooklyn and Seattle.
Wave Books, 9781933517377, 62pp.
Publication Date: April 1, 2009
About the Author
Joshua Beckman was born in New Haven, Connecticut. He is the author of nine books, including The Inside of an Apple (Wave Books, 2013), Take It, Shake, Your Time Has Come, and two collaborations with Matthew Rohrer: Nice Hat. Thanks. and Adventures While Preaching the Gospel of Beauty. He is an editor at Wave Books and has translated numerous works of poetry and prose, including Micrograms, by Jorge Carrera Andrade, 5 Meters of Poems (Ugly Duckling Presse, 2010) by Carlos Oquendo de Amat and Poker (Ugly Duckling Presse, 2008) by Tomaz Salamun, which was a finalist for the PEN America Poetry in Translation Award. He is also the recipient of numerous other awards, including a NYFA fellowship and a Pushcart Prize. He lives in Seattle and New York.