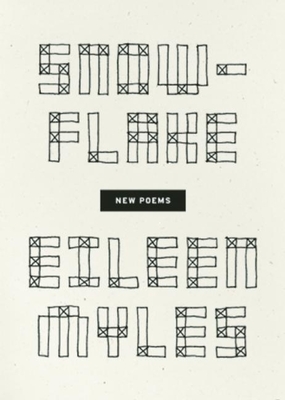 Snowflake/Different Streets (Paperback)
Wave Books, 9781933517582, 198pp.
Publication Date: April 3, 2012
* Individual store prices may vary.
Description
"One of the savviest and most restless intellects in contemporary literature--honest, jokey, paranoid, sentimental, mean, lyrical, tough, you name it."--Dennis Cooper
" Myles' writing] comes across simultaneously as effortless and utterly gorgeous. . . . To be able to write with such gentleness and force all at the same time is such a gift, and Myles is completely generous in how she uses this."--Ron Silliman
Two books meet as one in legendary poet, critic, and novelist Eileen Myles' newest collection. In a world overflowing with technology and its mutant offspring, moments of human ecstasy and connection are as indelible as they are fleeting. Indeed, with every page, the poems of Snowflake and different streets create poet and poem anew.
some cars seem to erupt
from the tar itself
they seem to pull
themselves up
from below the surface of the land
though I don't think land. I mean something flat, something
black
almost like a water that we're on
though a dark water that
holds us.
Eileen Myles has published more than a dozen books of poetry, criticism, and fiction. She was recently awarded the 2010 Shelley Memorial Award for poetry and, for her novel Inferno, the Lambda Literary Award for Lesbian Fiction. She lives in New York.
About the Author
Eileen Myles was born in Cambridge, Mass. in 1949, was educated in catholic schools, graduated from U. Mass. (Boston) in 1971, and moved to New York City in 1974 to be a poet. She quickly became part of the reading, publishing, and performance scene in the East Village, editing dodgems in the late '70s and becoming part of the community of St. Mark's Poetry Project where she studied and was friends with Ted Berrigan, Alice Notley, Paul Violi, and Bill Zavatsky. In 1979, she was assistant to poet James Schuyler. She was Artistic Director of the Poetry Project, 1984-86. Myles is a vivid interpreter of her own work and travels widely in the US and Canada and internationally giving readings and performances. In 2007, she published Sorry, Tree (Wave Books), the latest of more than a dozen volumes of poetry, fiction, and nonfiction including Chelsea Girls, Not Me, Skies, The New Fuck You/adventures in lesbian reading, Cool for You, and The Importance of Being Iceland: Travel Essays in Art. Her most recent book is Inferno (A Poet's Novel) published by OR books. A new book of poems, Snowflake / different streets, will be published by Wave Books in 2011. She wrote the libretto for Hell, an opera with music composed by Michael Webster, which was performed on both coasts, 2004-2006. In 2007, she received The Warhol/Creative Capital art writers' grant. In 2010, the Poetry Society of America gave her the Shelley Memorial Award. She contributes to a wide number of publications including ArtForum, Bookforum, Parkett, and The Believer. She's a Prof. Emeritus at UC San Diego where she taught for five years. She lives in New York.