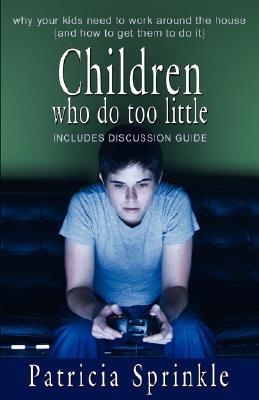 Children Who Do Too Little (Paperback)
Bella Rosa Books, 9781933523231, 200pp.
Publication Date: December 15, 2007
* Individual store prices may vary.
Description
Fact: Doing chores improves your child's chances for a happy marriage and a good job. Many parents, rather than fighting their children over chores, would rather do the chores themselves. But Patricia Sprinkle makes a convincing and entertaining case for why kids need chores. They need to develop basic life skills such as cooking and cleaning. They need to learn responsibility and the value of hard work. In short, they need to learn how to become dependable, capable adults. In Children Who Do Too Little, Sprinkle shows why and how parents should teach their children household skills and gives suggestions for making teaching easier. She discusses: --Why we do it all for our children --Guidelines for good family meetings --How to get kids to work --Cleaning tips that make life easier --How to handle the child's own room --Cleaning games to make work fun --The pay-for-work vs. allowance debate Complete with a group discussion guide. Children Who Do Too Little is a book every parent will benefit from-and every child as well Third Edition.