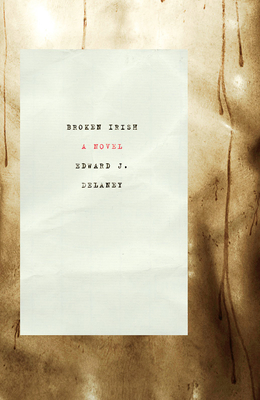 Broken Irish (Paperback)
Turtle Point Press, 9781933527505, 416pp.
Publication Date: September 16, 2011
Description
-Epic in its scope but relentlessly compelling in its storytelling--not a common combination--Broken Irish is a splendidly readable and richly textured novel. Edward J. Delaney is an enormously gifted writer.- --ROBERT OLEN BUTLER
-In Edward J. Delaney's South Boston little is lost, nothing forgotten. Old sins, old wounds haunt his characters, young and old, and reverberate throughout his wonderfully complicated plot. Broken Irish is an enthralling, satisfying novel.- --MARGOT LIVESEY
-An entire community is on the brink. Hope is the only hope. And faith cannot scrub the grime off its hands. With Broken Irish, Edward J. Delaney delivers a gripping epic.- --ADAM BRAVER
As the millennium approaches, -Southie- is still a place where little distinguishes mob bosses from pillars of industry, the bullied from the bullies, and the pious from the pitiful. In this tough Boston neighborhood, six lives are about to converge... Jimmy, an alcoholic writer, whose life is unalterably changed after witnessing an accident; Jeanmarie, a teenage runaway, whose quest for independence leads down a dark path; Christopher, a young Catholic school dropout with a gnawing secret; Colleen, a war widow whose grief has blinded her to the needs of her son; Father John, a priest on the eve of forced retirement; and Rafferty, a wealthy businessman who hires a ghostwriter to tell his story.
In Broken Irish, Delaney trains his journalist's ear, his filmmaker's eye, and his writer's heart on each of their stories--creating a driven and deeply human narrative that pierces the heart of the American experience. He also gives us a captivating portrait of late-1990s South Boston at the crossroads--a time when -Whitey Bulger has evaporated into the ether but his boys still kick around on the street corners . . . waiting for Whitey's Second Coming.-
About the Author
Edward J. Delaney is an award-winning author, journalist, and filmmaker. He has published two previous books of fiction, the novel Warp & Weft and the collection The Drowning and Other Stories, and has published short stories regularly in the Atlantic Monthly and other magazines and quarterlies. He is also the co-author of Born to Play, by Boston Red Sox second baseman and 2008 American League Most Valuable Players Dustin Pedroia.Delaney has received a Literary Fellowship from the National Endowment for the Arts, the PEN/Winship Award for Fiction, and is a past winner of an O. Henry Prize for short story writing. His work has been included in Best American Short Stories (edited by Jane Smiley), and he has been a finalist for the National Magazine Award.As a journalist, he wrote for publications including the Denver Post and Chicago Tribune, and is a past winner of the National Education Reporting Award as well as other national awards. Delaney has also served as an editor at the Neiman Journalism Lab at Harvard University. As a filmmaker, Delaney has directed and produced documentary films including -The Times Were Never So Bad: The Life of Andre Dubus, - (2007), and -Library of the Early Mind, - which premiered in Fall 2010.He lives in Rhode Island.
Praise For Broken Irish…
Truly indelible. . . . [Delaney] cares about details and understands their importance to the larger themes of loss, desperation, and betrayed loyalties. His characters are not merely vehicles for ideas, but rather fully realized, familiar people, whose failures are heartbreakingly authentic." Boston Globe
In an artfully constructed story . . . Delaney tackles corporate corruption, the sex-abuse scandal in the Catholic Church, gun violence, and, especially, alcoholism (in searing passages on the ravages of drink that recall Malcolm Lowry's Under the Volcano)." Booklist (starred review)
Readers will be captivated. The author continues to demonstrate great dexterity and storytelling acumen in his lyrical page-turner." Publishers Weekly (starred review)
Delaney plots his narrative through parallel story lines, all of which elegantly converge at the end of the novel. . . . [keeping] the incipient tragedy beautifully and heartbreakingly balanced." Kirkus Reviews (starred review)
Muscular and taut . . . a great story that reaches into a reader's life [and] poses important questions about people, fate and community." Shelf Awareness for Readers
If you're anything like me, you Will. Not. Be. Able. To. Stop. Reading." The Quivering Pen
Advertisement