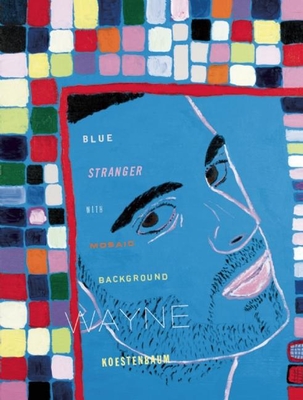 Blue Stranger with Mosaic Background (Paperback)
Turtle Point Press, 9781933527604, 128pp.
Publication Date: April 17, 2012
Description
Fast, obsessive, jumpy, tender, and joyful, the poems in Wayne Koestenbaum's Blue Stranger With Mosaic Background take his signature themes--stardom, scapegoating, aestheticism, nudism, exaltation--and cut them into serial strips: tidbits that employ techniques of pointillism, mosaic, grid, aphorism, litany, and philosophical investigation.
The luminaries in this memory-theater range from Yvonne de Carlo to Hannah Arendt. A trip to Venice and an invocation to an eschatological ice-cream man are the two longest trysts in a book exquisitely composed of "bits" that betoken a new brutalism in a writer known for svelte cadences and artful dodges.
Praise For Blue Stranger with Mosaic Background…
Wayne Koestenbaum's brilliant new collection is like a lurid coloring book of Fauvist Depravity." Playfully perverse, his poems reinvent the lyrical, satirical barb for our moment. And they're as telling as they are outrageous. Where else could we meet the Mrs. Robinson of Abstract Expressionism" or experience the joy of biting the wolfman's wombat ass." This scholar of excess is off the cuff, over the top, and always on the money!
Elaine Equi

Like a desiccated David Markson novel, this addictively readable book of minimalist pop koans welds the body to the page. Strained through dreamspace, refracted by mediaspace and enacted in meatspace, these poems refute stability and certainty, opting instead for the irrefutable vageries of Koestenbaum's exquisitely tuned subjectivity.
Kenneth Goldsmith
Advertisement