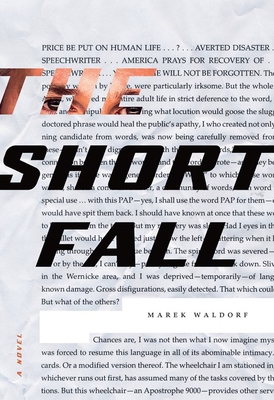 The Short Fall (Paperback)
Turtle Point Press, 9781933527796, 369pp.
Publication Date: September 10, 2013
* Individual store prices may vary.
Description
"The Short Fall is a rhetorical triumph, a novel about the presidency built architecturally on language and skyscraper sentences, an impressive, high flying debut."--Jonathan Baumbach
"Possessed of great verve and tremendous inventive muscle, Marek Waldorf offers style and substance to spare in this terrific debut. Calvino's millennial qualities are all here: but especially quickness and lightness and lots of pleasurable multiplicity. I got hits, in reading The Short Fall--an experience, in short, that I highly recommend--of early, rollicking Javier Marias, but also of Gilbert Sorrentino and Harry Mathews too."--Laird Hunt
A speechwriter shot during a botched assassination starts to recover powers of speech along with pieced-together memories of the campaign he served and the candidate he helped make president of a "bankrupt and volatile" republic. The more the narrator remembers the more he suspects that he was the target. A frenzied, lyrical, farcical, anguished monologue on the personal and political.
Raymond Chandler once wrote in a letter, "It doesn't matter a damn what a novel is about. The only fiction of any moment in any age is that which does magic with words."
Marek Waldorf does magic with words in The Short Fall, a multilevel debut novel about a paralyzed speechwriter's relationship to his client, a charismatic presidential candidate named Vince Talbot, and about his own relationship to the written word. The novel, filled with lively effusions of wit and unexpected humor, is at once a non-ideological fly-on-the-wall expos of how campaigns are run and a meditation on writing and creative embellishment. It's an achronological story of recovery, one that emerges slowly like an image on a Polaroid photograph.
About the Author
Marek Waldorf was born in Washington, DC. His father was in the Foreign Service and Marek lived with his family in Idi Amin's Uganda, coup-wracked Thailand, England and Lesotho. While he was in the United States he lived in Binghampton, NY. Waldorf studied Philosophy at Harvard. After a year in grad-school Waldorf moved to San Francisco where he appeared in Jon Moritsugu's Hippy Porn (1991) which ran at Action Christine Cinema for over a year. Waldorf is the author of Widow's Dozen, a collection of stories forthcoming from Turtle Point Press in 2014. His essays and reviews have appeared in The Recorder, where he served as Fiction Editor and then Editor-at-Large. He works as a grant-writer (most recently for Brooklyn Public Library and Girls Write Now) and lives in Brooklyn.