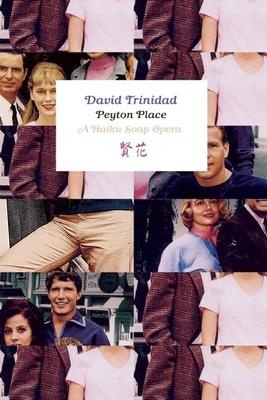 Peyton Place
A Haiku Soap Opera
Paperback

* Individual store prices may vary.
Description
David Trinidad turns the paste jewels of pop art into the real thing.--James Schuyler
In David Trinidad's Peyton Place: A Haiku Soap Opera, the moment-by-moment particulars of traditional haiku collide with the time-stretching serial narratives of contemporary soap operas. As Trinidad's haiku chart the changing seasons, don't be surprised if the snow falling under moonlight is artificial, dumped by overworked stagehands off-camera. Seventeen syllables mediated by television--the continuing story of Peyton Place making a high-def splash in Basho's pond.--Tony Trigilio
The world of art can appear anywhere, so it's no wonder to me that Trinidad finds something worthwhile in producing a haiku for each of the episodes of Peyton Place and that, embedded in the strange curl of Dorothy Malone's hairdo, is yet one more space still untouched and undefined by a poet.--Manuel Mu oz
This is the continuing story of Peyton Place. One irreverent haiku for each of the over five hundred prime time 1960s era adult soap opera episodes. Fraught relationships, courtroom cliffhangers, and sensational storylines are condensed into seventeen-syllable episodes, as stereotypic characters weather the passing TV seasons. This haiku soap epic is ingenious, funny, and totally addictive. Excerpts from Peyton Place: A Haiku Soap Opera have been selected by Denise Duhamel for inclusion in Best American Poetry, 2013.
Turtle Point Press, 9781933527819, 157pp.
Publication Date: August 27, 2013
About the Author
David Trinidad's most recent book is Dear Prudence: New and Selected Poems (Turtle Point Press, 2011). His other books include Plasticville (2000), Phoebe 2002: An Essay in Verse (with Jeffery Conway and Lynn Crosbie, 2003), The Late Show (2007), and By Myself (with D.A. Powell, 2009), all published by Turtle Point. He is also editor of A Fast Life: The Collected Poems of Tim Dlugos (Nightboat Books, 2011), which won a Lambda Literary Award. Trinidad teaches poetry at Columbia College Chicago, where he co-edits the journal Court Green and is the 2011-2013 Distinguished Faculty Scholar. Originally from Los Angeles, Trinidad has been called "a master of the postmodern pop-culture sublime." His work is also associated with the innovative formalism of the New York School. Alice Notley has written, "There is an unwavering light in all of Trinidad's work that turns individual words into objects, new facts." About The Late Show, the New York Times Book Review wrote that Trinidad's "most impressive gift is an ability to dignify the dross of American life, to honor both the shrink-wrapped sentiment of the cultural artifacts he writes about and his own much more complicated emotional response to them."