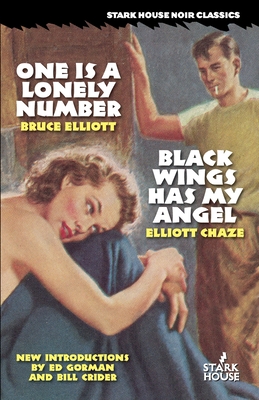 One is a Lonely Number / Black Wings Has My Angel (Paperback)
Stark House Press, 9781933586434, 238pp.
Publication Date: April 13, 2016
* Individual store prices may vary.
Description
ONE IS A LONELY NUMBER
They cut out part of his tubercular lung in prison. But after the breakout, all Larry Camonille can do is run and keep on running. He's ready to die rather than go back inside. Mexico looks good, where the weather is more accommodating to a man with bad lungs. He wants to stay in Chicago and take care of that lying tramp who promised to keep the getaway money for him. But Chicago is too hot. On the lam, Camonille bums it down to Ohio. That's where he meets Vera, a used-up lush with a warm and inviting manner. And Jan, fresh and young and boy-crazy. They all want something from Camonille, but all he has to give is his life.
BLACK WINGS HAS MY ANGEL
When Ken first meets Virginia, he's fresh off a jail break and a gig on an oil rig. She's his first woman after months on the water but how could he know she'd get under his skin so quickly? That instead of ditching her he'd come to need her, not only for himself but for the foolproof robbery scheme his cellmate had cooked up before he was shot to death going over the wire? Ken has a plan, and Virginia can handle a Packard like a pro--and she wants the bucks even more than he does. They stay together, they plan together, and before long they're on the run together. But can either one of them really love the other? Or trust the other?