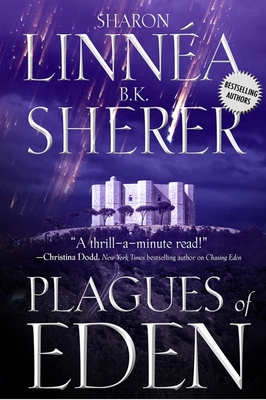 Plagues of Eden (Eden Thrillers) (Paperback)
Arundel Publishing, 9781933608129, 349pp.
Publication Date: September 6, 2014
* Individual store prices may vary.
Description
THE WHEEL SPINS. CHAOS IS UNLEASHED. 72 HOURS AND COUNTING UNTIL THE DEATH OF THE FIRSTBORN... The race is on to stop a madman bent on unleashing the ancient plagues of Egypt against the modern world. The countdown has begun. Only Army Chaplain Jaime Richards, along with rock star Mark Shepard, can stop the catastrophe and save the mysterious Sword 23 from the clutches of a psychopath... if they can find the true mastermind in time.
About the Author
Sharon Linnea is the author of the new mystery THESE VIOLENT DELIGHTS as well as the EDEN THRILLERS. She has also written award-winning biographies of Raul Wallenberg and Hawaii's Princess Kaiulani. She lives outside New York City with her family. Visit her at Sharonlinnea.com B.K. Sherer holds a Master of Divinity degree from Princeton Theological Seminary and a Doctorate of Education from Oklahoma State University. A Presbyterian minister, she currently serves on active duty as a chaplain in the U.S. Army. The authors first collaborated on a play for their sixth grade talent show in Springfield, Missouri, and have been best friends ever since.