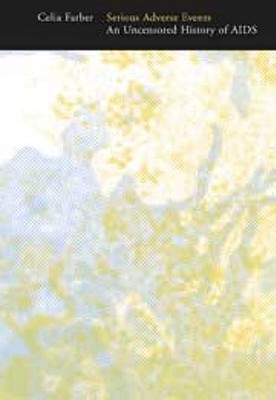 Serious Adverse Events: An Uncensored History of AIDS (Hardcover)
An Uncensored History of AIDS
Melville House, 9781933633077, 300pp.
Publication Date: April 1, 2006
* Individual store prices may vary.
or
Not Currently Available for Direct Purchase
Description
Controversial AIDS reporter Celia Farber collects twenty years of investigative work on AIDS.

Building on her much discussed cover story in Harper's Magazine—"Out of Control: AIDS and the Corruption of Medical Science"—Celia Farber's Serious Adverse Events: An Uncensored History Of AIDS asks important questions about the costs and results of the two-decade long "war on AIDS."

Here Farber conducts new interviews with controversial AIDS dissidents, including UC Berkeley's Peter Duesberg, UNAM's Harvey Bialy, and Nobelist Kary Mullis. Their views on HIV and cancer—rarely discussed in the mainstream press—are considered at length.

Also included are accounts of some of the most dramatic and controversial questions caught up in the fight against AIDS. Farber investigates AIDS co-factors, unexplained causes of immunodeficiency (HIV-negative AIDS), estimates of the AIDS epidemic in Africa, and, perhaps most importantly, drug treatment plans. In 1989, Farber was the first magazine journalist to call attention to the dangers of high-dose AZT monotherapy. In 2000, she took aim at David Ho's "hit hard, hit early" treatment plan. In both cases, Farber's suspicions turned out to be correct. AIDS drugs, when improperly prescribed or promoted, can be much more deadly than AIDS itself.

Farber's candor and extensive research sheds new light on the AIDS epidemic and its important effects on our current state of medical research.
About the Author
From 1987 to 1997, Celia Farber wrote and edited "SPIN" magazine's AIDS column, "Words From The Front." She has also written for many magazines and newspapers, including "Esquire," " Rolling Stone," "Gear," "Salon," and "Harper's." She lives in New York City.
Praise For Serious Adverse Events: An Uncensored History of AIDS…
"Although much of what Farber dredges up is not new, the fact remains that her argument has not been answered to the satisfaction of a lot of people. I would guess that it is not going to be so easy now to sweep this debate under the carpet by naming Farber and Duesberg and others 'crazies' and 'HIV deniers.' As Farber herself points out, there is too much money and greed now controlling the entire system of our 'treatment' for that to be an effective response."
—Larry kramer, Founder, ACT UP

"It's an engaging piece of investigative journalism that exposes deep problems with the standards of medical research when it comes to AIDS.... Her argument is that AIDS has become an industry and a certain kind of sloppiness has entered the search for new anti-retroviral drugs."
—Gal Beckerman, Columbia Journalism Review

Advertisement