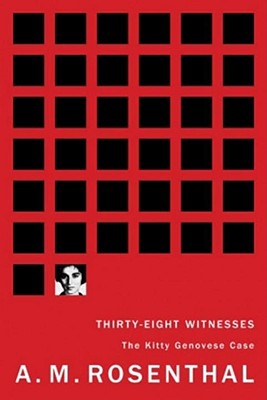 Thirty-Eight Witnesses (Paperback)
The Kitty Genovese Case
Melville House Publishing, 9781933633299, 112pp.
Publication Date: April 1, 2008
Other Editions of This Title:
Paperback (9/20/2016)
Hardcover (9/20/2016)
MP3 CD (7/11/2017)
* Individual store prices may vary.
Description
"[Rosenthal] told a stunning, tragic story and called each one of us to account for averting our eyes—and hearts—and voices."
—Mike Wallace, 60 Minutes

It remains one of the most notorious deaths in New York City history not because of who was murdered but because of the circumstances: 28-year-old Kitty Genovese was brutally murdered, in an attack that took nearly thirty minutes and had thirty-eight witnesses...not one of whom did a thing to stop the murderer or even call for help.

A.M. Rosenthal, who would later become one of the most famous and controversial editors The New York Times has ever had, was the newspaper's city editor then; the murder happened on his beat. He first published this book in 1964, the year of the murder. It is part memoir, part investigative journalism, and part public service.
About the Author
A.M. Rosenthal was editor of "The New York Times" from 1969 through 1986, during which time he gained fame for the paper's coverage of the war in Vietnam, Watergate, the Iran-Contra scandal, and in particular for his decision to publish the Pentagon Papers. Prior to that he was a foreign correspondent for the "Times," for which he was awarded the Pulitzer Prize in 1960. He died in 2006.
Praise For Thirty-Eight Witnesses: The Kitty Genovese Case…
"This is a most important book by perhaps the most important newspaper editor of the last half-century."
—Gay Talese, author of The Kingdom and the Power

"A memorable book...that needs to be available to...anyone who struggles to...live an honorable life within one or another community or neighborhood."
—Robert Coles, author of The Moral Life of Children

"It resembles a time capsule in some respects… several of the haunting questions Rosenthal raised, generalized to any such situation, remain unanswerable, and link as firmly to the present as they did to their own time."
—Art Winslow, Chicago Tribune

"A look at our collective guilt for Genovese's murder, the way we are all complicit when the rules of society start breaking down… It's a vivid argument, and 44 years later, it has more to tell us than some moralistic tale of apathy."
—David Ulin, Los Angeles Times

"Now the classic book on the subject is out … stunning new introduction."
—Liz Smith

"Years after its first printing, Thirty-Eight Witnesses remains a starkly terrifying morality play."
—Publishers Weekly

"Concerns an event that seemed to symbolize everything that was wrong with contemporary New York: a 30-minute attack, culminating in murder, on a young Queens woman, heard by 38 neighbors, none of whom called the police. Reissued in a series of classic works of journalism, this edition includes a preface by Samuel G. Freedman and an introduction by Arthur Ochs Sulzberger."
—The New York Times Book Review
or
Not Currently Available for Direct Purchase