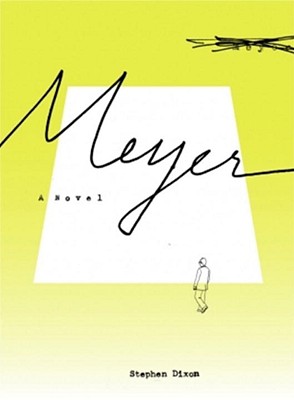 Meyer (Paperback)
Melville House, 9781933633305, 300pp.
Publication Date: September 1, 2007
* Individual store prices may vary.
or
Not Currently Available for Direct Purchase
Description
The twenty-seventh book of fiction by one of America's leading avant gardists, the award-winning Baltimore writer Stephen Dixon, sets up a situation that the protagonist, Meyer—a prolific fiction writer from Baltimore—finds preposterous: writer's block.

In a story rife with Dixon's trademark zest and style, Meyer proceeds to rifle through all the possible aspects of his life that could make for good fiction, and to try whatever it takes to get himself writing again. Sometimes, sex with his wife works, so he tries that, but without luck (even after several tries, just to be sure). He wonders if he should try sex with one of the neighbors. He wonders if he should try writing about his parents' death…again. He wonders about concocting awful things to happen to himself and his family. He wonders about concocting wonderful things to happen to himself and his family. He tries sex with his wife again…

Is there nothing in Meyer's life worth writing about?

It is, in short, Stephen Dixon at his best: stylish, funny, moving, and relentless as ever in his pursuit of the small, meaningful, and ultimately powerful revelations of everyday life.
About the Author
Stephen Dixon is the author of twenty-seven works of fiction including, most recently, "Phone Rings" and "Old Friends" (both Melville House). His novels "Interstate" and "Frog" were both finalists for the National Book Award. Frog was also a finalist for the PEN/Faulkner Award. His work has received the O. Henry Award, the Best American Short Stories award, the Pushcart Prize, The American Academy Institute of Arts and Letters Prize for Fiction, and he has been a recipient of a Guggenheim Fellowship.
Praise For Meyer…
"A hip Saul Bellow."
—Publishers Weekly

"The American master of the long paragraph."
—The New York Times

"There is no better chronicler of our antic and anxious age than Stephen Dixon, and if you can read Meyer without recognizing yourself in its pages, I want some of whatever it is that you're smoking."
—Daniel Handler(aka Lemony Snicket)
Advertisement