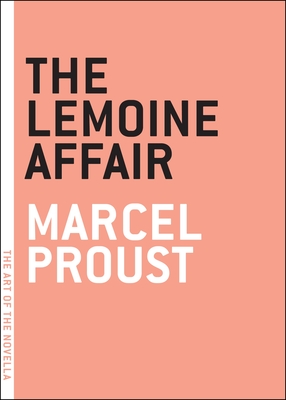 The Lemoine Affair (The Art of the Novella)
Paperback

* Individual store prices may vary.
Description
Their friend Marcel Proust had killed himself after the fall in diamond shares, a collapse that annihilated a part of his fortune.

This is the first-ever translation into English of this startling tour-de-force by one of the twentieth century's greatest writers.

The Lemoine Affair was inspired by the real-life French scandal involving Henri Lemoine, who claimed he could manufacture diamonds from coal and convinced numerous people—including officers of the De Beers diamond mine company and Proust himself—to invest in the scheme. In a series of pastiches—imitations written in the style of other writers—Proust tells the story of the embarrassment rippling across high society Paris in the wake of the scandal, poking fun at himself (in one story, a character declares that Marcel Proust is so embarrassed he's suicidal) while lampooning some of France's greatest writers, including Flaubert, Balzac, and Saint-Simon.

Full of sophisticated wit and dazzling wordplay, and rife with allusions to his friend and fictional characters, many Proust scholars see the dead-on mimicry of The Lemoine Affair—written soon after Proust's rejection of society life—as the work by which he honed his own unique, masterly voice.

The Art of The Novella Series

Too short to be a novel, too long to be a short story, the novella is generally unrecognized by academics and publishers. Nonetheless, it is a form beloved and practiced by literature's greatest writers. In the Art Of The Novella series, Melville House celebrates this renegade art form and its practitioners with titles that are, in many instances, presented in book form for the first time.
Praise For The Lemoine Affair (The Art of the Novella)…
Praise for The Lemoine Affair

"This is the first-ever translation of this early small work of Marcel Proust. It is an exercise in style and wit and a precursor to his great works. Aside from captivating our readers this year, this book's virtue is attained by the very wonder of its existence. How can it be that in this age a work of so well-known an author can arrive previously unpublished from a small independent house in Brooklyn to come vividly to life for the first time in an independent bookstore on the upper west side? This is part of "The Art of the Novella" series from Melville House."
—Books of the Year 2008, Book Culture

Praise for "The Art Of The Novella" series

"I wanted them all, even those I'd already read."
—Ron Rosenbaum, The New York Observer

"Small wonders."
—Time Out London

"[F]irst-rate…astutely selected and attractively packaged…indisputably great works."
—Adam Begley, The New York Observer

"I've always been haunted by Bartleby, the proto-slacker. But it's the handsomely minimalist cover of the Melville House edition that gets me here, one of many in the small publisher's fine 'Art of the Novella' series."
—The New Yorker

"The Art of the Novella series is sort of an anti-Kindle. What these singular, distinctive titles celebrate is book-ness. They're slim enough to be portable but showy enough to be conspicuously consumed—tiny little objects that demand to be loved for the commodities they are."
—KQED (NPR San Francisco)

"Some like it short, and if you're one of them, Melville House, an independent publisher based in Brooklyn, has a line of books for you... elegant-looking paperback editions ...a good read in a small package."
—The Wall Street Journal
Melville House, 9781933633411, 112pp.
Publication Date: February 1, 2008
About the Author
Marcel Proust was born in the Parisian suburb of Auteuil in 1971 to well-to-do parents. As a child he developed severe asthma and was closely watched over by his mother in what became a neurotically dependent relationship (he would live with her until her death when he was 35). Graduating from the prestigious École des Sciences Politiques, he worked briefly as a lawyer, but soon became better known as a relentless social climber who wrote occasionally. However, upon the death of his mother—and his inheritance of a fortune worth millions—Proust abandoned high society. Dedicating himself to writing, he retreated into the bedroom of his Paris apartment, which he had lined with cork soundproofing so he could sleep all day and write all night. His reputation, however, clouded his new seriousness, and no one would publish the first installment of his seven-volume, stream-of-consciousness novel Remembrance of Things Past. (André Gide, then an editor at Gallimard, called it too "snobbish.") Proust thereby published it himself to great success. His fame as a modernist master grew with each subsequent installment, but his health simultaneously declined, and the final three volumes were published after his death in 1922 of pneumonia.

Charlotte Mandell has won the Modern Language Association Prize in translation. Among other titles she has translated for The Art of The Novella series are Gustave Flaubert's A Simple Heart, Guy de Maupassant's The Horla and Honoré de Balzac's The Girl with the Golden Eyes.
or
Not Currently Available for Direct Purchase