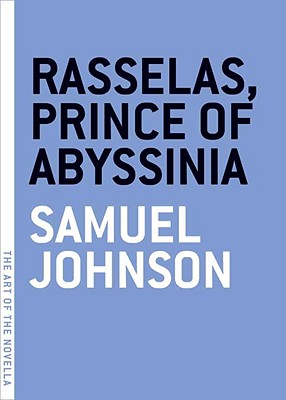 Rasselas, Prince of Abyssinia (The Art of the Novella) (Paperback)
Melville House, 9781933633442, 208pp.
Publication Date: August 25, 2009
* Individual store prices may vary.
Description
His chief amusement was to picture to himself that world which he had never seen, to place himself in various conditions, to be entangled in imaginary difficulties, and to be engaged in wild adventures....
The other great book by the man who wrote the dictionary: This is Dr. Johnson's beautiful, engaging, and ultimately inspiring story of a royal brother and sister who escape the castle and, travelling in disguise, search for a way to feel more useful to society.
It leads to a years-long adventure amongst poor people and rich men, great intellectuals and merchants, holy men and ruthless warriors. It is an eye-opening experience that shakes the siblings to their core and ultimately turns into the most sublimely wise and moving works that Johnson ever wrote, not to mention a masterpiece of English Literature.
The Art of The Novella Series


Too short to be a novel, too long to be a short story, the novella is generally unrecognized by academics and publishers. Nonetheless, it is a form beloved and practiced by literature's greatest writers. In the Art Of The Novella series, Melville House celebrates this renegade art form and its practitioners with titles that are, in many instances, presented in book form for the first time.
About the Author
Samuel Johnson was born in 1709 above his father's bookshop in Lichfield, England. He was a sickly child, scarred by smallpox, with facial and vocal tics, likely symptoms of Tourette Syndrome. But he proved a brilliant student, attending Oxford until a lack of funds forced his departure. (Numerous honorary degrees would later justify his famous sobriquet "Dr." Johnson.) At twenty-five he married Elizabeth "Tetty" Potter, a well-off widow twenty-one years his senior. She funded a school Johnson started, but lost much of her wealth when the school failed. Wracked by guilt, Johnson walked to London and, living virtually on the street, began writing reviews, essays and news for magazines, notably The Idler and The Rambler. In 1744, he published his masterpiece, Life Of Savage, an innovative warts-and-all biography of his friend, writer Richard Savage. Johnson would write several more "lives," culminating in his acclaimed three-volume Lives of The Poets. In 1746 a group of publishers asked Johnson to compile an authoritative English dictionary. He completed the massive undertaking in 1755, and A Dictionary of the English Language would set the standard for the next 150 years. Upon his death in 1784 he was buried in Westminster Abbey. Yet his fame only rose when, in 1791, his friend James Boswell published became the most famous "life" of them all: Life of Samuel Johnson.
Praise For Rasselas, Prince of Abyssinia (The Art of the Novella)…
"I wanted them all, even those I'd already read."
—Ron Rosenbaum, The New York Observer

"Small wonders."
—Time Out London

"[F]irst-rate…astutely selected and attractively packaged…indisputably great works."
—Adam Begley, The New York Observer

"I've always been haunted by Bartleby, the proto-slacker. But it's the handsomely minimalist cover of the Melville House edition that gets me here, one of many in the small publisher's fine 'Art of the Novella' series."
—The New Yorker

"The Art of the Novella series is sort of an anti-Kindle. What these singular, distinctive titles celebrate is book-ness. They're slim enough to be portable but showy enough to be conspicuously consumed—tiny little objects that demand to be loved for the commodities they are."
—KQED (NPR San Francisco)

"Some like it short, and if you're one of them, Melville House, an independent publisher based in Brooklyn, has a line of books for you... elegant-looking paperback editions ...a good read in a small package."
—The Wall Street Journal
or
Not Currently Available for Direct Purchase