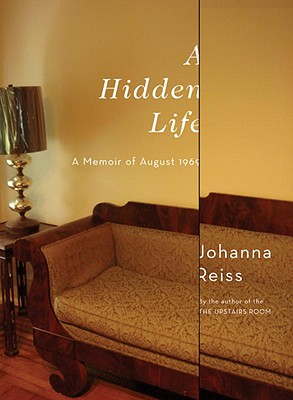 A Hidden Life
A Memoir of August 1969
Hardcover

* Individual store prices may vary.
Description
For years, Johanna Reiss' American husband, Jim, encouraged her to return to Holland to chronicle the two years, seven months, and one day she had spent hiding from the Nazis in rural Usselo, Holland. In 1969, she finally made the trip.

Accompanied by Jim and their two young children, Reiss intended to spend seven weeks researching the book that would eventually become The Upstairs Room, her Newbery Honor–winning account of her time hiding in the attic of a farmhouse in which for a time a contingent of Nazi soldiers was billeted.

But unknown to the millions of people who went on to read her beloved classic, behind the dark and painful story of the book was a still darker tale: Reiss' husband returned to America early and committed suicide at age thirty-seven, leaving no note.

For Reiss, an ongoing reckoning with universal tragedy becomes particular: she is forced to reckon, too, with Jim's death—and explain it to her children. Subtle and disturbing, the book is a powerful consideration of memory, violence, and loss, told in a stunning and sparse narrative style.
Praise For A Hidden Life: A Memoir of August 1969…
A New York Times Book Review Editor's Choice

"Like so many Holocaust survivors, Reiss was emotionally crippled. Then another darkness fell... [a] searing journey."
—Leslie Garis, The New York Times Book Review
"A beautifully-written memoir … one of the most moving books I have read."
—Lucy Kavaler, author of The Astors: A Family Chronicle of Pomp and Power
"A state of memory, a day-to-day account of the limbo one is left with when one's life is snatched away.... Reiss is again seeking and questioning a larger force."
—Lizzie Skurnick, Chicago Tribune (front page)
"A Hidden Life is a compelling and chilling memoir about the tragic, far-reaching effects of world history on personal history. Writing in the sparest and most self-effacing prose, Joanna Reiss manages to break the reader's heart."
—Hilma Wolitzer, author of Summer Reading and Hearts
"In A Hidden Life, Johanna Reiss weaves two great misfortunes into a brave and beautiful story. As we read, we rush back and forth between 1940s occupied Holland and 1960s New York, searching for the pieces of the puzzle that might lay bare her husband's—and her own—story. This book brims with courage and compassion. It will make you want to hold your own family closer."
—Kristen den Hartog, co-author of The Occupied Garden
"Johanna Reiss wrote one memoir, then discovered another hidden underneath.... A Hidden Life is that second story, moving between 1940s Holland and 1960s New York City. 'How do you tell children,' she thinks, 'that life is one continuous goodbye, that with each day the end comes a little nearer . . .; how do you explain that people you're close to, or thought you were, can just vanish?'"
—Susan Salter Reynolds, Los Angeles Times

"[A Hidden Life] explores memory, violence and survival—and how well we can ever really know another person. [Johanna's] story is so sad, her hurt so palpable, it will take your breath away."
—Minneapolis Star-Tribune
"As compelling and readable as a traditional mystery..."
—Jewish Exponent
"...beautifully expressed attempt to put life's unruly events into order."
—Jewish Book World
"A touching and tragic story that is bound to impress."
— Dizzie.nl
"Gripping"
—Algemeen Dagblad
"A Hidden Life shows that working through traumas can lead to a moving literary work."
—Quinta
Melville House, 9781933633558, 217pp.
Publication Date: January 27, 2009
About the Author
JOHANNA REISS is the author of the classic young adult book "The Upstairs Room," which Elie Wiesel praised in "The New York Times Book Review" as an "admirable account . . . as important in every respect as the one bequeathed to us by Anne Frank." She is the winner of the Newbery Honor, the Jewish Book Council Children's Book Award, and the Buxtehuder Bulle. She lives in New York City.

Author website: johannareiss.com
or
Not Currently Available for Direct Purchase