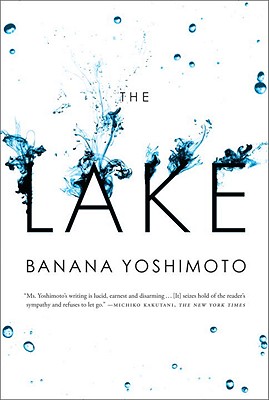 The Lake (Hardcover)
Melville House, 9781933633770, 192pp.
Publication Date: May 3, 2011
* Individual store prices may vary.
or
Not Currently Available for Direct Purchase
Description
A major literary sensation is back with a quietly stunning tour de force about the redemptive power of love.

While The Lake shows off many of the features that have made Banana Yoshimoto famous—a cast of vivid and quirky characters, simple yet nuanced prose, a tight plot with an upbeat pace—it's also one of the most darkly mysterious books she's ever written.

It tells the tale of a young woman who moves to Tokyo after the death of her mother, hoping to get over her grief and start a career as a graphic artist. She finds herself spending too much time staring out her window, though ... until she realizes she's gotten used to seeing a young man across the street staring out his window, too.

They eventually embark on a hesitant romance, until she learns that he has been the victim of some form of childhood trauma. Visiting two of his friends who live a monastic life beside a beautiful lake, she begins to piece together a series of clues that lead her to suspect his experience may have had something to do with a bizarre secret from his past. . . .

With echoes of real life events, such as the Aum Shinrikyo cult (the group that released poison gas in the Tokyo subway system) and the kidnapping of Japanese citizens by North Korea, The Lake unfolds as the most powerful novel Banana Yoshimoto has written. And as the two young lovers overcome their troubled past to discover hope in the beautiful solitude of the lake in the countryside, it's also one of her most moving.
About the Author
Banana Yoshimoto wrote her first novel, "Kitchen," while working as a waitress at a golf-course restaurant. It sold millions of copies worldwide, and led to a phenomenon dubbed by Western journalists as "Banana-mania." Yoshimoto has gone on to be one of the biggest-selling and most distinguished writers in Japanese history, winning numerous awards for her work. "The Lake "is her thirteenth book of fiction.

Michael Emmerich has translated numerous books by Banana Yoshimoto, and is also known for his translations of Nobel Prize-winner Yasunari Kawabata.
Praise For The Lake…
Praise for The Lake

"[The Lake] attests to the power of emotional intimacy to help even the most 'ridiculously fragile people' overcome trauma and grief."
—Hirsh Sawhney, The New York Times Book Review

"The simplicity of this elliptical novel's form and expression belies its emotional depth...There's almost an artistic sleight of hand in the latest from Yoshimoto, a novel in which nothing much seems to happen yet everything changes."
—Kirkus Reviews, starred review 

"Yoshimoto's marvelously light touch is perfectly captured by Emmerich's pristine translation."
—Publishers Weekly 

"Yoshimoto aficionados who have savored any of the dozen-plus novels she's written over the last three decades since she became a near-instant pop literary phenomenon with Kitchen will recognize her signature crisp, clipped style (thanks to exacting translator Emmerich's constancy) and revel in her latest cast of quirky characters. Newbies with a penchant for Haruki Murakami's mind-bending protagonists or Yoko Tawada's sparse precision will do well to begin their so-called Bananamania with this beguiling title."  
—Library Journal

"Reading [The Lake], you realize just how conventional most love stories are."
—New York Times

"Touching."
—Miami Herald

"The Lake demonstrates Yoshimoto's deepening talent, and her craft for quietly revealing an enveloping and haunting world."
—Cleveland Plain Dealer

"Yoshimoto is in peak form in this mesmerizing and suspenseful drama of the perils of brainwashing, from class bias to intrusive advertising to an infamous cult. Social conventions, memories and dreams, and the creative process are all explored with exquisite insight in Yoshimoto's beautifully mystical and hopeful novel."
—Booklist

"Yoshimoto's simplicity — both in prose and narrative — speaks to a mastery of form....The Lake will haunt you."
—Thought Catalog 

Praise for Banana Yoshimoto

"A sure and lyrical writer . . . Yoshimoto transforms the trite into the essential."
—The New Yorker

"Ms. Yoshimoto has an effortless ability to penetrate her characters' hearts." 
—Michiko Kakutani, The New York Times

"Banana Yoshimoto is a master storyteller. . . . The sensuality is subtle, masked, and extraordinarily powerful. The language is deceptively simple."
—Chicago Tribune

"There is no such thing as a stock character in Yoshimoto's fiction. She writes utterly without pretense."
—The Washington Post

"The disturbing, ironic, relentless clarity of her voice casts a spell. . . ."
—The Denver Post

"Her achievements are already legend."
—The Boston Globe
Advertisement