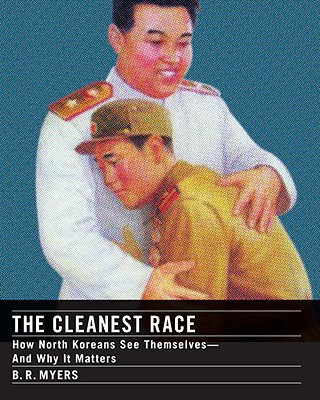 The Cleanest Race (Hardcover)
How North Koreans See Themselves and Why It Matters
Melville House, 9781933633916, 208pp.
Publication Date: January 26, 2010
* Individual store prices may vary.
Description
Understanding North Korea through its propaganda

What do the North Koreans really believe? How do they see themselves and the world around them?

Here B.R. Myers, a North Korea analyst and a contributing editor of The Atlantic, presents the first full-length study of the North Korean worldview. Drawing on extensive research into the regime's domestic propaganda, including films, romance novels and other artifacts of the personality cult, Myers analyzes each of the country's official myths in turn—from the notion of Koreans' unique moral purity, to the myth of an America quaking in terror of "the Iron General." In a concise but groundbreaking historical section, Myers also traces the origins of this official culture back to the Japanese fascist thought in which North Korea's first ideologues were schooled.

What emerges is a regime completely unlike the West's perception of it. This is neither a bastion of Stalinism nor a Confucian patriarchy, but a paranoid nationalist, "military-first" state on the far right of the ideological spectrum.

Since popular support for the North Korean regime now derives almost exclusively from pride in North Korean military might, Pyongyang can neither be cajoled nor bullied into giving up its nuclear program. The implications for US foreign policy—which has hitherto treated North Korea as the last outpost of the Cold War—are as obvious as they are troubling. With North Korea now calling for a "blood reckoning" with the "Yankee jackals," Myers's unprecedented analysis could not be more timely.
About the Author
B.R. Myers was born in New Jersey and raised in Bermuda, South Africa and Germany. He has a Ph.D. in North Korean Studies from the University of Tubingen in Germany. His books include "Han Sorya and North Korean Literature" (Cornell East Asia Series, 1994) and "A Reader's Manifesto" (Melville House, 2002). At present he directs the international studies department at Dongseo University in South Korea. In addition to writing literary criticism for the American magazine "The Atlantic," of which he is a contributing editor, Myers regularly contributes articles on North Korea to the "New York Times," "Wall Street Journal" and academic publications.
Praise For The Cleanest Race: How North Koreans See Themselves and Why It Matters…
"Electrifying... finely argued and brilliantly written."  —Christopher Hitchens, Slate

"Provocative... A fascinating analysis." —Dwight Garner, The New York Times

"[A] scary... close reading of domestic propaganda [that] goes a long way toward explaining the erratic behavior and seemingly bizarre thought processes of Dear Leader Kim Jong Il." —The Wall Street Journal

"Myers' book is worth buying and reading." —The Quarterly Review

"The definitive book on the subject." —The Atlantic

"There are few books that can give the world a peek into the Hermit Kingdom.The Cleanest Race provides a reason to care about how those in North Korea see themselves and the West. It is possibly the best addition to that small library of books on North Korean ideology."
—Andrei Lankov, Far Eastern Economic Review

"Myers renders great service to the global foreign policy establishment with his lucid and well documented profile of the North Korean polity. If only it were made mandatory reading for all the stakeholder leaders, particularly the American establishment, who feel compelled to deal politically with North Korea. Maybe then, Myers' wisdom might lead them to adopt the only possibly policy toward North Korea that will work: that of 'benign neglect.'"
—Mike Gravel, US Senate 1969-1981

"In his new survey of North Korean propaganda, The Cleanest Race, B.R. Myers insists that the ongoing support of the North Korean public for the regime doesn't reflect any great faith in communism. Instead, he argues, it is rooted in a kind of paranoid racial nationalism adapted from the Japanese fascism that flourished before World War II.... Myers feels that the racialism at the heart of the regime's ideology will sustain it even as it fails to provide the prosperity it promises."
—Laura Miller, Salon.com

"The text offers a clear picture of the peculiar worldview of this profoundly inward-facing country, its character and continuous subtle alterations, and its under-appreciated ramifications in world affairs." —Reference & Research Book News
or
Not Currently Available for Direct Purchase