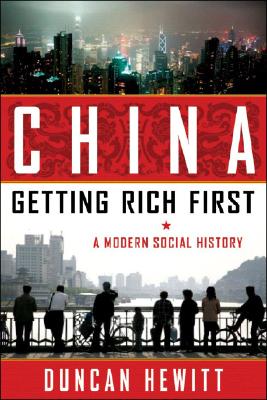 China
Getting Rich First: A Modern Social History
Hardcover

* Individual store prices may vary.
Other Editions of This Title:
Paperback (11/3/2009)
Description
An intimate and human portrait of a society living in extraordinary times. Welcome to the new China, a nation in motion--whole streets are rebuilt in a week, car ownership is soaring, rural workers migrate to the cities in search of a better life, and education is privatized for the first time in decades. But some feel that China is moving too fast. Since Deng Xiaoping announced in the 1980's that China would have to let some of the people get rich first, economic reforms and social transformation have swept through the country at lightening speed. But while many have benefited under the new slogan aspiration nation, others are struggling to keep up in what is now one of the most divided societies on earth. Is it possible for a nation that formerly prided itself on being the world's oldest, continuous civilization, reconcile an ancient past with new dreams of modernization and globalization? Newsweek journalist Duncan Hewitt, who lives in China and has witnessed first hand the impact and speed of these vast upheavals, has written a timely and illuminating book that speaks with the voices of everyday people as they confront an ever-changing reality.
Pegasus Books, 9781933648477, 454pp.
Publication Date: June 1, 2008
About the Author
Duncan Hewitt first lived in China in 1986, while studying Chinese at Edinburgh University. He was a BBC correspondent in China from 1997 until 2002, first in Beijing and later as the BBC's first Shanghai correspondent. Hewitt now writes for Newsweek from Shanghai.