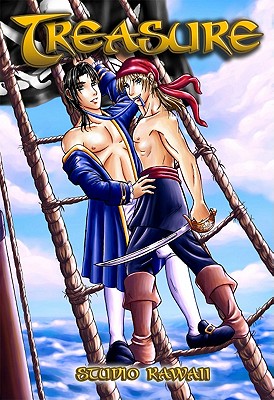 Treasure Volume 1 (Yaoi) (Paperback)
Yaoi Press, 9781933664057, 192pp.
Publication Date: August 1, 2006
Other Editions of This Title:
Paperback (8/28/2007)
* Individual store prices may vary.
Description
Patrick and Alan are two navy sailors deeply in love. Their romance is shattered by the conniving sailor Ian, who also loves Patrick. Ian uses the cover of a battle to shoot Alan when his back is turned. The captain of the pirates they're battling orders for the wounded Alan to be captured as they withdraw. Alan is forced to join the crew of the Adventurer under the pirate captain Bergardoux who was impressed with the military prowess he saw Alan display on the navy vessel. Though Alan resists at first, the Captain's overwhelming charm and Alan's own thirst for adventure eventually causes him to relish the pirate life. Fate brings Patrick and Alan face to face again, but this time as enemies. Patrick is thrilled the love of his life is still alive, but horrified to see he's become a filthy pirate.
or
Not Currently Available for Direct Purchase