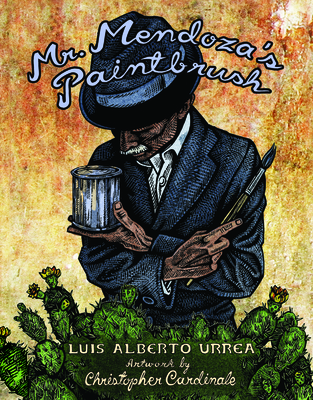 Mr. Mendoza's Paintbrush (Paperback)
Cinco Puntos Press, 9781933693231, 64pp.
Publication Date: June 1, 2010
* Individual store prices may vary.
Description
Mr. Mendoza, Mexico's self-described king of graffiti, blesses the small town of Rosario with his sardonic wit. "Deflate your pomp or float away " he paints on the body of an unexpectedly exhumed monk. "No intelligent life for 100 kilometers," he proclaims on the sign that announces Rosario's boundaries. The residents of Rosario tolerate or enjoy Mr. Mendoza's commentary as best they can. But the town goes crazy when Mendoza announces--on the side of a pig--"Mendoza goes to heaven on Tuesday." Each new declaration from Mendoza drives speculation about his future. Suicide? Cancer? Syphillis? All the theories were in play until the Tuesday when Mendoza transformed his life with art. Mr. Mendoza's Paintbrush was originally written as a short story by Luis Alberto Urrea, a Pulitzer Prize finalist for The Devil's Highway and an Edgar Award winner for his short story "Amapola." It was published in 2002 as part of his collection Six Kinds of Sky. Artist Christopher Cardinale, whose graphic essays have appeared in the seminal magazines World War III and Punk Planet, adapted the short story to the graphic novel form. And critics are raving about the outcome. The Bloomsbury Review says, "Mr. Mendoza's Paintbrush is a rich gift, an off-center, enigmatic tale with a well-coupled balance of narration and art. Urrea and Cardinale are a 'match made in heaven.'" And Publishers Weekly adds that "this lovely comics adaptation...may have found the ideal way to present magical realism graphically."

About the Author
Luis Alberto Urrea is author of widely acclaimed novel The Hummingbird's Daughter and 2005 Pulitzer Prize finalist for nonfiction for The Devil's Highway. A member of the Latino Literature Hall of Fame, Luis was born in Tijuana, Mexico to a Mexican father and an American mother. This is his first graphic novel. Christopher Cardinale is a graphic novelist, muralist and community activist who lives in Brooklyn, New York. He is a regular contributor to the zine World War III.
Praise For Mr. Mendoza's Paintbrush…
"Urrea's delightful tale of morality and meaning is rendered masterfully by Cardinale's boisterous illustrations, their bold outlines providing heft to the surrealismAn enchanting exploration of life's myriad mysteries." —Kirkus Reviews, starred review

"Mr. Mendoza's Paintbrush is a rich gift, an off-center, enigmatic tale with a well-coupled balance of narration and art. Urrea and Cardinale are a 'match made in heaven" or at least mythology. Let us hope there's more where this one came from." —The Bloomsbury Review

"This lovely comics adaptation of a short story by major Latino writer Urrea may have found the ideal way to present magical realism graphically." —Publishers Weekly

"VERDICT: Cardinale's colorful, wood-block-style art paints this lively tale about Rosario and its townspeople with nostalgia and humor. A gem." —Library Journal

"Urrea's short story has now been superbly adapted as a graphic novel by Cardinale." —Horn Book

"Christopher Cardinale's muted earth tones and beautiful woodblock style mix fantasy with gritty reality; children and adults alike will be beguiled by this book." —San Francisco Chronicle

"Christopher Cardinale's broad-brush art complements the story and gives it an air of magical realism. The art can be enjoyed independent of reading the tale." —Albuquerque Journal

"La unión de estos dos destacados artistas en la publicación es un regalo tanto para los lectores como para quienes defienden los méritos del relato gráficoLas ilustraciones de Cardinales le brindan al relato una nueva dimensión al destacar el arte de protesta, lo cual representa una parte esencial del texto." —Terra.com

"The richly colored artwork captures the town and its citizens in bold black lines filled with the heat and magic of Mexico. The quiet, lyrical text tells of urban legends and teenage lust tempered by guilt, and it's beautifully woven into the graphics." —School Library Journal

"The [story] has now been turned into a graphic novelvibrantly illustrated in a bold, woodcut style by Brooklyn cartoonist and muralist Christopher Cardinale."—San Antonio Express-News

"The text is absolutely sparkling, wry, warm, and funny with a satirical edge that counterbalances the magical realism that begins as an undertone and expands into the story's climax Readers who fell under the spell of Tan's Tales from Outer Suburbia will definitely want to book a trip to Rosario." —Bulletin of the Center for Children's Books, starred review

"Mr. Mendoza's Paintbrush is a stunningly illustrated life story that absolutely transcends into great art myth at the endan evolving experience of the macabre and the sacred intertwined, evocative and haunting in its tone." —Midwest Book Review

"...An example of a graphic novel that represents Mexican/Mexican American writing and artistry at its finest." —EN/SANE World

"Urrea's story with supernatural energy, every panel somehow a snapshot of movement-in-progress, whether shatteringly monumental like the thunderclap hitting the clock tower, or quietly subtle as a student raising a knowing hand" —Book Dragon
or
Not Currently Available for Direct Purchase