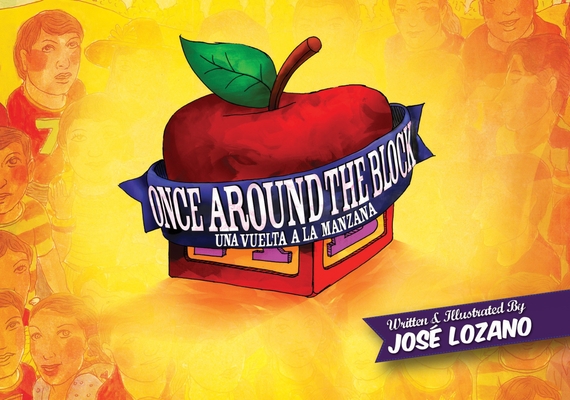 Once Around the Block/Una Vuelta a la Manzana (Hardcover)
Cinco Puntos Press, 9781933693576, 32pp.
Publication Date: August 1, 2009
Description
There's always a lot of action in the Mexican American neighborhood where Mr. Lozano lives. Amelia argues with Anita; Benito loves bean burritos but not bumblebees; Hortencia and Herminia hover around like hummingbirds; and Zacarias is catching some Zs on Zachary Street. Jose Lozano's wacky little stories and illustrations combine Mexican culture with Sesame Street smarts to make for a wonderful read-aloud ABC book in Spanish and English.
Jose Lozano, who lives in Anaheim, California, makes his living as an elementary school teacher, but his passion is art. He is a rising star in the thriving Latino art scene in Los Angeles.

"With this amusing trip through the streets of a Mexican-American neighborhood, readers will discover the lives, adventures, secrets, hobbies and special skills of a most varied gallery of personages.
"With the skills of a master storyteller, Lozano creates in each page, in alphabetical order, a lively, one-paragraph portrait using words that start with the same initial letter of his characters' names: "B is for Benito who loves baseball, bumblebees, and big bean burritos"; "I is for Isabel who likes to stay indoors, cruise the Internet and write interesting stories"; "P is for Pablo who has won many prizes for playing the piano perfectly." (Los Otros, hermanos Tonio, Lluvia and Chuy, new to the neighborhood, haven't yet learned English.) "The author's detailed and vibrant gouache paintings are framed as pictures in an album, reflecting the festive spirit of a real Hispanic community. Crosthwaite's excellent Spanish rendition maintains the savor and rhyme of the original text and its clever wordplay, making the story enjoyable in both languages. Drawings of alphabet cubes serve as dividers between the texts."--
Kirkus Reviews
About the Author
Jose Lozano was born in Los Angeles but moved as an infant to Juarez, Mexico. There, he found many of the cultural touchstones that continue to influence his work today--bad Mexican cinema, fotonovelas, ghost stories, and comic books. Lozano prefers to work in a series, focusing on themes like Mexican wrestlers, paper dolls, and loteria.
Praise For Once Around the Block/Una Vuelta a la Manzana…
"The author's detailed and vibrant gouache paintings are framed as pictures in an album, reflecting the festive spirit of a real Hispanic community. Crosthwaite's excellent Spanish rendition maintains the savor and rhyme of the original text and its clever wordplay, making the story enjoyable in both languages." —Kirkus Reviews

"Humorous, double-page text and vivid colors make this an ideal ABC book. The narration in English and Spanish carry the same tone and story line. Lozano's illustrations exude a Mexican feel and depict a vibrant and modern Hispanic community. Great for reading aloud, this book is a solid choice for building basic vocabulary skills." —School Library Journal

"Once Around the Block is a delightful bilingual ABC book with warm, vivid illustrations of happy faces and places. Its charm is only exceeded by its originality." —Midwest Book Review

"This splashy little gem is the work of one of the rising stars in the thriving Latino art scene in Los Angeles." —Tucson Citizen
Advertisement