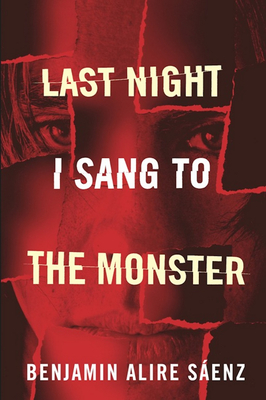 Last Night I Sang to the Monster (Hardcover)
Cinco Puntos Press, 9781933693583, 239pp.
Publication Date: September 1, 2009
* Individual store prices may vary.
or
Not Currently Available for Direct Purchase
Description
"Saenz' poetic narrative will captivate readers from the first sentence to the last paragraph of this beautifully written novel. . . . It is also a celebration of life and a song of hope in celebration of family and friendship, one that will resonate loud and long with teens."--Kirkus Reviews
..".There is never a question of either Saenz's own extraordinary capacity for caring and compassion or the authenticity of the experiences he records in this heartfelt account of healing and hope."--Booklist
"Offering insight into an adolescent's] addiction, dysfunction and mental illness, particularly in the wake of traumatic events, Saenz's artful rendition of the healing process will not soon be forgotten."--Publishers Weekly
"Saenz weaves together 18-year-old] Zach's past, present, and changing disposition toward his future with stylistic grace and emotional insight. This is a powerful and edifying look into both a tortured psyche and the methods by which it can be healed."--School Library Journal
Zach is eighteen. He is bright and articulate. He's also an alcoholic and in rehab instead of high school, but he doesn't remember how he got there. He's not sure he wants to remember. Something bad must have happened. Something really, really bad. Remembering sucks and being alive--well, what's up with that?
About the Author
Benjamin Alire Saenz is a novelist, poet, essayist and writer of children's books. He has received the Wallace Stegner Fellowship, the Lannan Fellowship and an American Book Award. He teaches at the University of Texas at El Paso, and considers himself a fronterizo, a person of the border.
Praise For Last Night I Sang to the Monster…
"Sáenz weaves together Zach's past, present, and changing disposition toward his future with stylistic grace and emotional insight. This is a powerful and edifying look into both a tortured psyche and the methods by which it can be healed." —School Library Journal, starred review

"Offering insight into addiction, dysfunction and mental illness, particularly in the wake of traumatic events, Sáenz's artful rendition of the healing process will not soon be forgotten." —Publisher's Weekly, starred review

"Zach's first-person voice is compelling and heartbreaking. Sáenz' poetic narrative will captivate readers from the first sentence to the last paragraph of this beautifully written novel, which explores the painful journey of an adolescent through the labyrinth of addiction and alcoholism. It is also a celebration of life and a song of hope in celebration of family and friendship, one that will resonate loud and long with teens." —Kirkus Reviews

"There is never a question of either Sáenz's own extraordinary capacity for caring and compassion or the authenticity of the experiences he records in this heartfelt account of healing and hope." —Booklist

"Benjamin Alire Saenz's new novel is a gift of honesty and poetry and heart… This novel sang to me from the opening page and never once hit a false note." —Matt de la Peña

"I cried with Zach all the way through this book: tears of rage and sorrowsometimes laughingand finally, tears of hope and joy. Thanks to Ben Saenz' pitch-perfect writing, Zach will stay in my heart for a long time." —Linda Sue Park, author of When My Name Was Keoko

"Benjamin Alire Sáenz's most devastating and exquisite novel to date." —El Paso Times

"Zach's story as an alcoholic is a painful but positive reaffirmation of the human spirit." —Library Media Connection

"Sáenz does a wonderful job of painting Zach's struggle while in a rehab center where the Zach fights his inner monster. This inspirational story can help middle to high school students learn about the beauty of life, hope, healing and family." —Oneota Reading Journal

"Last Night I Sang to the Monster will provide younger readers with reassurance that they are not alone in dealing with the demons of dysfunctional families and painful memories." —El Paso Scene
Advertisement