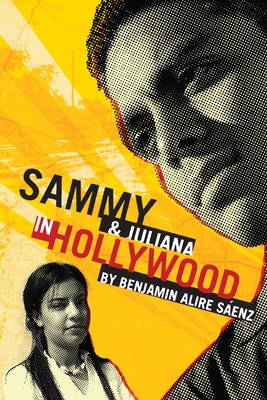 Sammy & Juliana in Hollywood
Paperback

* Individual store prices may vary.
Other Editions of This Title:
Hardcover (8/1/2004)
Paperback (8/1/2006)
Compact Disc (4/11/2006)
Description
It is 1969, America is at war, "Hollywood" is a dirt-poor Chicano barrio in small-town America, and Sammy and Juliana face a world of racism, war in Vietnam, and barrio violence. Sammy and Juliana in Hollywood is a Young Adult Library Services Association Top 10 Best Book for Young Adults and a finalist for the Los Angeles Times Book Award for Young Adults.
Benjamin Alire S enz--novelist, poet, and writer of children's books--was named one of the "Fifty Most Inspiring Authors in the World" by Poets & Writers magazine. He was also a finalist for PEN/USA's literary award for children's and young adult literature. S enz lives in El Paso, Texas.
Praise For Sammy & Juliana in Hollywood…
"His message is one of victory through endurance rather than escape, as Sammy finds ways to define himself and maintain his loyalties while circumstances prevent him from leaving the barrio. Even readers far removed from the poverty and prejudice that define his world will see this facet of the Mexican-American experience with empathy through Sammy's eyes." —The Bulletin of the Center for Children's Books, starred review

"The barrio setting is as palpable as the wings that beat against Sammy's insides when danger lurks. The tough but caring family, neighbors, and friends speak in authentic dialogue liberally laced with Spanish that adds texture to the story, and an empathetic teacher and a stand against the school dress code provide a small victory to help Sammy weather the racism and poverty that fuel his emotions and his losses." —Booklist

"Written in a poetic first-person voice that incorporates some Spanish into the narrative, Sammy's story of love, loss, and strong family ties is hard to forget." —Horn Book

"Expletives appear throughout as do large helpings of Spanish, without italics and not always with English echoed afterward, in perfect keeping both with Sammy's world and his self-perception. His hopes and plans for a better life, beyond the hold of Hollywood are poignant and palpable. This is a powerful and authentic look at a community's aspirations and the tragic losses that result from shattered dreams." —School Library Journal

"In natural, lucid prose, Sáenz captures Sammy's half-formed thoughts, expressed in sentence fragments, and the confusion and uncertainty of an introspective, introverted boy on his path towards becoming a man. Sáenz' has an ear for dialogue, not just the idiosyncratic phrases and expressions that characterize the residents of Hollywood, but also the way that Sammy narrates his tale, in a poetic, lyrical manner that begs to be read out loud and shared with others, placed in the hands of anyone who's ever struggled with the confusion, loss, and contradictions that come with saying goodbye." —San Antonio Current

"Sammy & Juliana comes straight from the streets and the times. Sammy just isn't on the cusp of manhood, he's on the edge of an often violent and frustrating world that demands difficult choices and sacrifice. And Sáenz's lyrical prose provides the soundtrack to that tumultuous life borne of the barrio of a small town." —San Antonio Express-News

"Top picks for the year include Sammy and Juliana in Hollywood by Benjamin Alire Sáenz…Set in the barrio of a New Mexico town during the Vietnam war, this heart-rending story of love and loss follows Sammy Santos through his senior year of high school. The gritty details about drugs, sex, domestic violence, the liberal doses of Spanglish, even the profanity, make this story feel like an authentic portrayal of what it meant to be poor and Chicano in America in the 1960s." —Miami Herald

" It is one of the best Viet Nam era novels for this age I have read. The love story, though over rather early in the book, is very sweet. I particularly liked the relationship between Sammy and his father. We do not often see books for this age where kids genuinely respect and love their parents." —Children's Literature

"This is a sober, moving, coming-of-age story…[Young adults] of today can relate. Excellent for cultural studies." —KLIATT

"The verisimilitude of teen angst, speech and behavior is what makes Sammy & Juliana in Hollywood a powerful reading experience. Honest and heartfelt, this is an extraordinary book." —El Paso Times

"Please do yourself and your students a favor and search for this beautiful work of art…Sammy & Juliana in Hollywood deserves top billing in our school libraries. Find it! Buy it!" —Michigan Reading Journal

"Saenz never overdoes it. Like a ballerina whose graceful dancing effortlessly belies her athleticism, Saenz writes as if he is merely documenting the lives of a small segment of America, lifting the cover for us to peer down on the struggles of this group of young adults as they play out before us." —El Paso Inside & Out Magazine

"While the many deaths are depressing, the ultimate message is how hope and memory combine to free even the most tormented soul. Readers who speak Spanish will enjoy the juxtaposition of two languages throughout the novel." —Paper Tigers
Cinco Puntos Press, 9781933693996, 291pp.
Publication Date: May 10, 2011
or
Not Currently Available for Direct Purchase