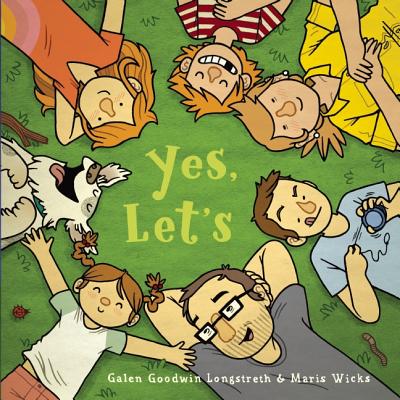 Yes, Let's (Hardcover)
Tanglewood, 9781933718873, 32pp.
Publication Date: April 9, 2013
* Individual store prices may vary.
Description
Let's get into the station wagon, roll those windows down,
Let's sing out loud and wave to cows as we drive out of town.
Let's park the car beneath the trees and trade our shoes for boots,
Let's set the timer, all say "Cheese " then head into the woods. In this cute book about a family's camping trip, the simple, rhyming text is enhanced by comical illustrations that bring wit and energy to every page. Packaged in a smaller size for little hands and easy to pack up, this book would be a perfect read-aloud during the car ride, along with a great way to recap a trip at the end. The illustrations inside the front cover serve as a reminder of things to pack, and the story inspires activities to plan. There is even a space in the back to paste a picture of the reader's own family trip. This little book serves as a loving tribute to family togetherness.
About the Author
Galen Longstreth grew up on Mercer Island, Washington, where she became a voracious reader, learned to drive stick on steep hills, swam in Lake Washington, and went on many outdoor adventures with her family. Though she has had a number of different jobs, she persistently maintains her connection to children's literature. She has taught kindergarten in Philadelphia, sold children's books at Powell's Books in Portland, Oregon, and reviewed children's books for a Washington State newspaper. She now works at a non-profit organization that provides picture books and professional development for teachers in kindergarten through third grade classrooms. She lives in Philadelphia. Longstreth received her MFA in Writing for Children and Young Adults from Vermont College of Fine Arts. She also has a Masters in Early Childhood and Elementary Education. She writes picture books, poetry, comics, and stories, all for children and young adults. She is currently working on a graphic novel script, a young adult novel, and a number of picture books. She and her brother, comics artist Alec Longstreth, are currently collaborating on a picture book about summer camp. Her work has appeared in comics anthologies published by Tugboat Press. Yes, Let's is her first book. Maris Wicks grew up exploring the woods of New England with her family. She now lives in sunny Somerville, MA with fellow illustrator Joe Quinones and their cat Biggs. Wicks has written and drawn for Spongebob Comics, Adhouse Books and Tugboat Press, and has recently finished the graphic novel Primates: The Fearless Science of Jane Goodall, Dian Fossey, and Birute Galdikas, written by Jim Ottaviani, for First Second Books. When she is not drawing, she can be found working as a program educator at the New England Aquarium.