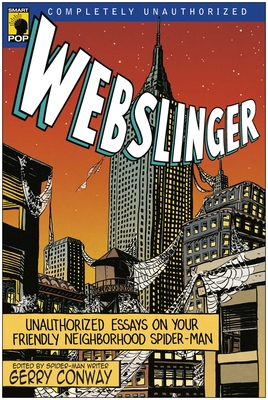 Webslinger
Unauthorized Essays on Your Friendly Neighborhood Spider-Man (Smart Pop)
Paperback

* Individual store prices may vary.
Description

The tangled web of vengeance, love, and loss woven by Spider-Man comics and films is explored in this collection of insightful essays by acclaimed writers of comics and science fiction. A variety of topics--from the superhero's sarcasm to the science behind radioactive spiders--are discussed in essays on "Turning Rage into Responsibility: A Psychology of Loss," "Love Is Selfish: Can a Hero Afford Personal Attachments?," and "Self Identity and Costume Design." The popular rival Green Goblin, the bumbling-yet-influential media, and the part New York City itself plays in stories are skillfully explored, as is the overall philosophy of mild-mannered Peter Parker and Spidey's relationship with the rest of the characters in the Marvel universe.

Smart Pop, 9781933771069, 231pp.
Publication Date: February 8, 2007
About the Author
Glenn Yeffeth is the editor of several anthologies in the Smart Pop series, including Anthology at the End of the Universe, Farscape Forever!, Five Seasons of Angel, Navigating the Golden Compass, Seven Seasons of Buffy, Taking the Red Pill, and What Would Sipowitz Do? He lives in Dallas, TX.