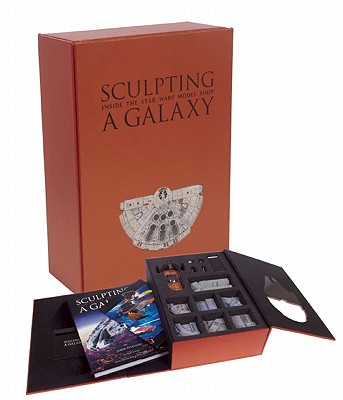 The Sculpting a Galaxy
An Indian Elder's Journey Through a Land of Ghosts and Shadows
Hardcover

* Individual store prices may vary.
Other Editions of This Title:
Hardcover (11/14/2006)
Description
From the producers of the acclaimed Dressing a Galaxy: The Costumes of Star Wars comes an inside look at the secrets behind the saga's artful models and sculptures. Lorne Peterson, model and sculpture designer for the entire Star Wars saga, takes us on a journey through the intricate process of crafting and sculpting the models from sketch to screen and the artistry behind the dazzling results.
Sculpting a Galaxy: Inside the Star Wars Model Shop features more than 300 full-color photographs and illustrations from the Lucasfilm archives, models from all six films, interviews, images and text with concept sculptors, an overview of the ILM model shop from 1976 through today and numerous gatefolds of the most loved models.
ILM virtually redefined visual effects and blazed a trail into the digital realm, follow behind the camera and into the rarely seen workshops and an amazing look at the creation of movie magic. Sculpting a Galaxy: Inside the Star Wars Modelshop takes readers behind-the-scenes for the first in-depth look at these amazing models and the process behind their creation, punctuated by Lorne Peterson's exuberance and dedication to craft.
This unique visual treat is a must-have for any Star Wars fan.
Limited Edition features: a tipped in vellum sheet for number and signature, 5 gatefolds, 4 bound-in postcard sheets, a bound-in 12 page booklet describing the "white" model process, an accordian foldout containing all cut-outs of the ships, a bound-in Model Shop booklet detailing the model shop evolution, and a gatefold of "The Family Tree" of all the modelmakers involved in the 30 year process of creating the Star Wars legacy. Also included in the clamshell box: a make your own Millennium Falcon model kit that features as the front of the clamshell, DVD of model shop documentaries, a 32 page book showcasing all of the computer graphics surrounding the models and the special effects of the films, an 8 page booklet that will serve as a guide to all the model pieces included in the limited edition including a certificate of authenticity, AND a Landspeeder Model with detachable rear fin - the reproduction based on the original cast and painting by Peterson - with four seats for figures of Luke Skywalker, R2-D2, C-3PO, and Obi-Wan Kenobi.
Insight Editions, 9781933784106, 216pp.
Publication Date: November 14, 2006
or
Not Currently Available for Direct Purchase