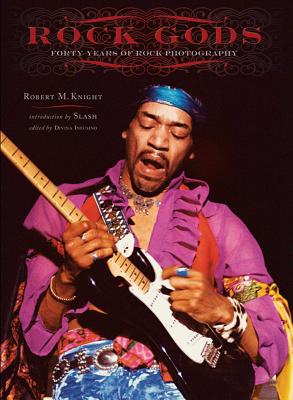 Rock Gods (Hardcover)
Forty Years of Rock Photography
Insight Editions, 9781933784717, 169pp.
Publication Date: October 14, 2008
* Individual store prices may vary.
Description
In 1968 a young photographer named Robert M. Knight arrived in Seattle with a camera and a single roll of film to shoot local legend Jimi Hendrix. The photographs Knight took seized the uncanny energy of Hendrix, recording his primal performance and adrenaline driven solos that tantalized audiences. The iconic images Knight produced immortalized Hendrix and propelled Knight on a life-long pilgrimage as the photographic herald of rock and roll. Rock Gods: Forty Years of Rock Photography is the rich visual universe, and sole volume, of Robert M. Knight's work, replete with visions of guitar gods, monumental performances, and earth shattering solos. For forty years since his famous shots of Jimi Hendrix in 1968, Knight has chronicled the greatest moments in the evolution of rock music and culture. His remarkable photographs define generations of rock stars from the Rolling Stones and Led Zeppelin to Run DMC and Green Day. With Rock Gods, Knight captures the grueling riffs of Jimmy Page, the flamboyant solos of Elton John, Slash's steel resolve, and Eric Clapton's soulful blues. With his intimate access and friendships with many of his subjects, Knight's photography fashions a unique perspective on the world of rock stars, creating some of the most compelling and evocative portraits of popular musicians witnessed to date. Through the haze and jagged reverb, Rock Gods captures the ephemeral candor of the stage, visually asserting the impassioned substance of rock that incites our souls.
About the Author
Robert Knight's career spans from the 1960s to the present as one of the premier photographers for the music industry, rock publications, and music equipment manufacturers. He made his mark in 1968, showing up in Seattle with a single roll of film to capture shots of Jimi Hendrix. Knight's images of Hendrix entering his adrenaline fueled guitar trances were instantaneously immortalized on the pages of magazines and newspapers, propelling Knight into a career as a professional rock photographer. Knight is best known for his "Guitar Legend" archive, havingworked with such artists as Jimi Hendrix, Jeff Beck, Led Zeppelin, Stevie Ray Vaughn, Eric Clapton and contemporary performers like John Mayer, Slash, and Green Day. When he's not photographing, Knight serves as the co-director of Hollywood's Rock Walk in Los Angeles. He is a feature photographer in the Rock and Roll Gallery and a retrospective of his work is currently exhibited at over 160 Guitar Centers across the United States.
or
Not Currently Available for Direct Purchase