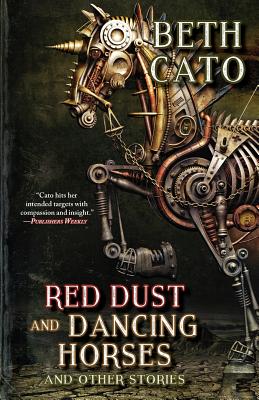 Red Dust and Dancing Horses and Other Stories (Paperback)
Fairwood Press, 9781933846682, 366pp.
Publication Date: November 7, 2017
Description
This debut collection from Nebula-nominated author Beth Cato brings together works that span history and space, a showcase of vividly imagined speculative stories that range from introspective and intense to outright whimsical. Here you'll find the souls of horses bonded into war machines of earth and air, toilet gnomes on the rampage, magical pies, a mad scientist mother, a bitter old man who rages against giant extraterrestrial robots, and a sentient house that longs to be a home. The book features 28 stories and 6 poems, and includes Cato's acclaimed story "The Souls of Horses."
Praise For Red Dust and Dancing Horses and Other Stories…
"Beth Cato crafts tales with heart, poignancy, and simple decency. She is the Thornton Wilder of SF!"
--Lawrence M. Schoen, author of Barsk: The Elephants' Graveyard
"Cato writes with abundant heart, placing humanity and compassion in the forefront of everything that she does. Reading Cato's work renews my hope in humanity."
--Michael R. Underwood, author of Genrenauts
"These hauntingly beautiful stories and poems each contain a deep aching sadness wrapped around a beautiful gleaming hope--like fog around a sunbeam. If you weren't in love with Cato's writing before you sat down to read this collection, you will be by the time you're finished."
--Rhonda Parrish, editor of Equus
"In this collection, Cato shows exactly why she was a Nebula finalist last year. While the worlds in her shorts are vivid and enthralling, it's her characters that highlight her extraordinary skill. She moves easily from one milieu to another. The characters don't jump off the page, they pull you in to join them. This says nothing of the new twists she puts on well-trodden genres. The book is like a delightful night of small plates, each a delicious little escape, and the next arriving just as the flavor of the last is at its peak."
--Bishop O'Connell, author of the American Faerie Tale series
"With Ray Bradbury's poignant charm, Beth Cato explores the resilience of the soul in this versatile collection of stories. Haunting poetry, tales of steampunk horses, a sole survivor drifting in space, colonies on Mars, and toilet gnomes are just a few of the delights you'll find in Red Dust and Dancing Horses. Using science fiction and fantasy as her springboard, Cato delves into familiar themes of family--both those we are born into and those that choose us--to reaffirm the notion that what makes us truly human is our empathy toward one another. And story by story, she shows us powerful women: mothers, daughters, and granddaughters as they navigate life's dangers with courage and fortitude. It's a vibrant collection you don't want to miss."
--T. Frohock, author of Los Nefilim
Advertisement