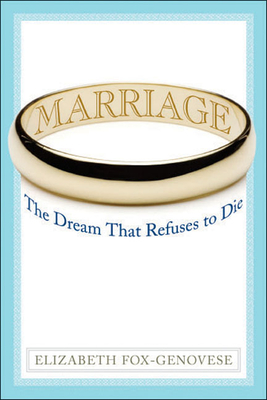 Marriage
The Dream That Refuses to Die
Hardcover

* Individual store prices may vary.
Description
Nearly everywhere and at all times, marriage has enjoyed a privileged status as the primary social unit--the essential bond that created alliances between families and a bridge between the sexes. In joining a man and woman, marriage attempted to hold men to collective social standards, including responsibility for the women they impregnated and the children they fathered, while also stringently hedging in women's sexuality. In short, marriage has always demanded that both men and women sacrifice a considerable measure of individual freedom. In marriage, "I" becomes "we," and "we" frequently extends beyond the couple to extended family, clan, and society. For these reasons, both political and religious authorities typically have taken great care to present marriage as an institution to which individual interests must be subordinated. At the time of her death in January 2007, the celebrated historian Elizabeth Fox-Genovese was worried that these attitudes were in the process of being reversed. In this book, which she was in the midst of preparing for publication at the time of her passing, she argues that marriage is disintegrating under the rising demands that it serve not the good of the whole but the desires of the individual. A union that at one point was used to limit individual "rights" is now claimed as one right among many. The sexual liberation movements of the last forty years have seriously undermined marriage, argues Fox-Genovese, so much so that the institution seems to face the threat of extinction. Even so, she writes, "Marriage for love--the promise of an enduring and engulfing bond between a man and a woman--is a dream that refuses to die. . . . It still promises that wewill finally be loved as we long to be loved." That dream is the ultimate theme of this book, a fitting coda to Elizabeth Fox-Genovese's distinguished career.

Intercollegiate Studies Institute, 9781933859620, 225pp.
Publication Date: May 1, 2008
About the Author
Elizabeth Fox-Genovese (1941 2007) was the Eleonore Raoul Professor of History at Emory University, where she was also the founding director of the Institute for Women s Studies. She received the National Humanities Medal from President Bush in 2003, was a member of the Governing Council of the National Endowment for the Humanities, and was a recipient of the Cardinal Wright Award from the Fellowship of Catholic Scholars. Her books include "Women and the Future of the Family"; "Reconstructing History: The Emergence of a Historical Society" (coedited with Elisabeth Lasch-Quinn); and " Feminism Is Not the Story of My Life: How the Elite Women s Movement Has Lost Touch with Women s Real Concerns.

""
or
Not Currently Available for Direct Purchase