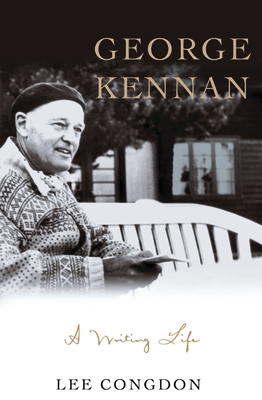 George Kennan (Hardcover)
A Writing Life
Intercollegiate Studies Institute, 9781933859712, 225pp.
Publication Date: November 1, 2008
* Individual store prices may vary.
Description
There were two George F. Kennans. The first was the well-known diplomat and ambassador to the Soviet Union and Yugoslavia—a tough political realist and man of the world who gained fame as the theorist of America's Cold War "containment" strategy. This was a "persona" that Kennan adopted in order to carry out his professional responsibilities. The second, largely unknown, but real George Kennan was a writer and aesthete—a shy, lonely man who felt alienated from both his country and his times, and a man who made major contributions to American literature.

Thus argues Lee Congdon in George Kennan: A Writing Life, a groundbreaking study of Kennan's life and thought. Congdon narrates Kennan's legendary work in the foreign service, his later career as a member of the Institute for Advanced Study at Princeton University, and the schools of thought to which he made significant contributions: political realism, antidemocratic social and political criticism, Spenglerian gloom, and conservative cultural analysis. Congdon concludes that notwithstanding his great accomplishments as a diplomat and geopolitical strategist, Kennan merits consideration above all else as an original and penetrating American writer.
About the Author
Lee Congdon is Professor Emeritus of History at James Madison University, where he taught for thirty-three years. He is the author of a trilogy on twentieth-century Hungarian intellectuals and coeditor of two volumes on the Hungarian Revolution. In 1999 the Republic of Hungary decorated him with its Order of Merit. Congdon was a Visiting Member of the School of Historical Studies at the Institute for Advanced Study in 1981–82, and a Summer Visitor at the institute in 2007. He has written hundreds of articles, essays, and reviews on history, philosophy, literature, politics, and baseball.
or
Not Currently Available for Direct Purchase