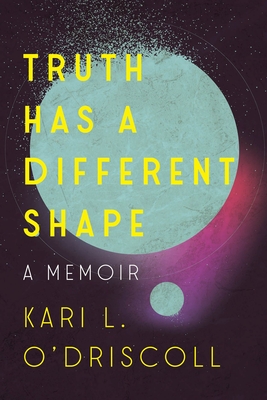 Truth Has a Different Shape
Paperback

* Individual store prices may vary.
Description
A family built, a family lost. Truth Has a Different Shape is a story of the power of compassion, of love and loss, revelations and relationship, and the evolution of self.

Growing up in the 1970s and 1980s, Kari O'Driscoll was taught that strength and stoicism were one and the same. She was also taught that a girl's job was to take care of everyone else. For decades, she believed these ideas, doing everything she could to try and keep the remaining parts of her family together, systematically anticipating disaster and fixing catastrophes one by one.

Truth Has a Different Shape is one woman's meditation on how societal and familial expectations of mothering influenced her sense of self and purpose, as well as her ideas about caretaking. As an adult, finding herself a caretaker both to her own children and to her aging parents, O'Driscoll finally reckons with the childhood trauma that shaped her world. Adoption, loss, and divorce defined her approach to motherhood, but in Truth Has a Different Shape, O'Driscoll finally pushes back. This memoir tracks her progress as she discovers how to truly care for those she loves without putting herself at risk, using mindfulness and compassion as tools for healing both herself and her difficult relationships.
Praise For Truth Has a Different Shape…
Category Finalist
— Eric Hoffer Awards

"O'Driscoll rearranges the traumas of her childhood to skillfully examine her own roles as mother, thinker, partner, and artist. This book has grit, integrity, and a heroine with the drive to stop being the woman who fixes it all, fixes other, fixes the past to live in her body and her words with resolve and dignity. In Truth Has a Different Shape, O'Driscoll emerges with an extra layer of skin and a narrative that honors all survivors, whether codependent or alienated from family and society."
— Sophia Shalmiyev, author of "Mother Winter: A Memoir"

"This memoir unwinds one woman's reckoning with her family. In the opening pages, a young Kari O'Driscoll attempts to make things easier for her family after a divorce and the loss of a sibling — an adopted brother who is sent back to the agency — tear her household apart. The pain of a child dealing with loss is palpable. Yet, as years progress in Truth Has a Different Shape, we follow O'Driscoll as she discovers how to heal herself."
— Buzzfeed
CavanKerry Press, 9781933880761, 232pp.
Publication Date: March 1, 2020
About the Author
Kari O'Driscoll is a writer and mother of two living in the Pacific Northwest. She is the founder of The SELF Project, an organization whose goal is to help teenagers, teachers, and caregivers of teens use mindfulness and nonviolent communication to build better relationships.
or
Not Currently Available for Direct Purchase