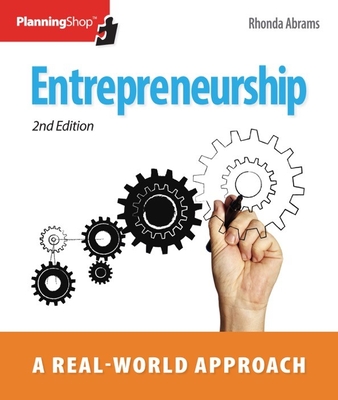 Entrepreneurship (Paperback)
A Real-World Approach
Planning Shop, 9781933895512, 536pp.
Publication Date: January 1, 2017
* Individual store prices may vary.
Description
With millions of people launching their businesses each year, entrepreneurs & small business owners are making a greater impact than ever before on the economy and are finally gaining the recognition they deserve. But many people struggle to get started, waste time reinventing the wheel as they launch their businesses, or need inspiration to help push them to the next level. As a best-selling author and syndicated columnist on small business matters, Rhonda Abrams, CEO of PlanningShop, has written the book on entrepreneurship to address all of these issues-- Entrepreneurship: A Real-World Approach. Whether readers dream of launching their own ventures, are new entrepreneurs, or have been in business for years, Entrepreneurship: A Real-World Approach provides everything they need to know to start and run a successful business--from idea formation and feasibility analysis, to launching the venture, growing the business, and even making a successful exit. The hands-on approach of the second-edition of this jam-packed guide helps entrepreneurs think through their businesses and take steps immediately to help move their vision from dream to reality. It features dozens of worksheets and checklists to kick start the process and includes inspiring real-world cases in each chapter to show how real entrepreneurs, out in the trenches, have overcome common obstacles. And critical thinking exercises recap each chapter's core objectives. NEW IN THIS EDITION: crowd funding and new ways to raise money; disruptive industries; minimal viable product, lean start-up, and innovation; expanded ethics and social responsibility; updated real-world cases; revised critical thinking exercises.