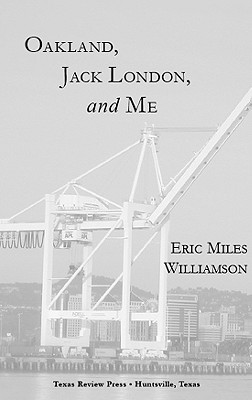 Oakland, Jack London, and Me (Paperback)
Texas Review Press, 9781933896113, 215pp.
Publication Date: May 30, 2007
* Individual store prices may vary.
or
Not Currently Available for Direct Purchase
Description
Acclaimed novelist, editor, and critic Eric Miles Williamson, with the publication of his first book of nonfiction, establishes himself as one of the premier critics of his generation. There is no other book that resembles Oakland, Jack London, and Me. The parallels between the lives of Jack London and Eric Miles Williamson are startling: Both grew up in the same waterfront ghetto of Oakland, California; neither knew who his father was; both had insane mothers; both did menial jobs as youths and young men; both spent time homeless; both made their treks to the Northlands; both became authors; and both cannot reconcile their attitudes toward the poor, what Jack London calls "the people of the abyss." With this as a premise, Williamson examines not only the life and work of Jack London, but his own life and attitudes toward the poor, toward London, Oakland, culture and literature. A blend of autobiography, criticism, scholarship, and polemic, Oakland, Jack London, and Me is a book written not just for academics and students. Jack London remains one of the best-selling American authors in the world, and Williamson's Oakland, Jack London, and Me is as accessible as any of the works of London, his direct literary forbear and mentor.
About the Author
ERIC MILES WILLIAMSON's first novel, the internationally acclaimed East Bay Grease (Picador USA, 1999), was a PEN/ Hemingway Finalist and listed by the Los Angeles Times Book Review as one of the Best Books of 1999. It was published in Great Britain and translated into French, German, and Finnish and reviewed by nearly 150 newspapers, radio and television shows and magazines. David Brown, producer of such films as "Jaws, Driving Miss Daisy, The Player, A Few Good Men," and "Chocolat," has recently optioned the film rights and begun project development. Williamson's second novel, Two-Up, was listed by the "Kansas City Star" and the "San Jose Mercury" News as one of the best 100 books of 2006, a distinction earned by only 26 novels. The French translation of "Two-Up" will appear in 2008.
Advertisement