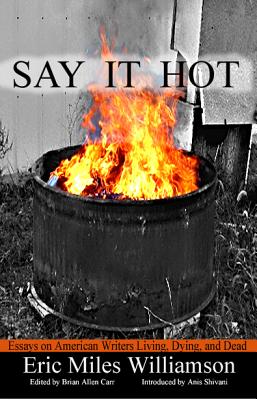 Say It Hot: Essays on American Writers Living, Dying, and Dead (Paperback)
Essays on American Writers Living, Dying, and Dead
Texas Review Press, 9781933896380, 234pp.
Publication Date: May 30, 2011
* Individual store prices may vary.
or
Not Currently Available for Direct Purchase
Description
Reading literary criticism can often be about as interesting as watching paint dry. Not so with the essays of Eric Miles Williamson. These essays are both erudite and explosive, thoughtful and outrageous, whether with praise or condemnation. One of the nation's most respected and feared literary critics, Williamson, in Say It Hot: Essays on American Writers Living, Dying, and Dead, collects for the first time the essays of his famed and infamous literary column, "Say It Hot," which ran monthly for two years in the French magazine Transfuge. Rounding out the collection are essays published over a twenty-year span in venues such as The Los Angeles Times Book Review, The Houston Chronicle, The San Francisco Chronicle Book Review, American Book Review, Pleiades, Arkansas Review, Chelsea, and Texas Review. Say It Hot is criticism at its finest, reminiscent of the best essays of Poe, Twain, D.H. Lawrence, Henry Miller, Allen Ginsberg, and Charles Olson. Passionate and learned, written with the verve only an accomplished novelist can bring to the page, Say It Hot is a landmark work of criticism by one of America's best novelists.
Eric Miles Williamson is an exquisite boil on the ass of the aristocracy, a Baby Ruth candy bar in contemporary literature's country club swimming pool. In other words, he is a force to be reckoned with. 'Behind every artistic act is a moralizing artist,' he decries in the book you are now holding in your hand. Not since Primo Levi has an author taken literature so seriously. Every word Williamson writes is a hymn to survival, not a bourgeois tender trap. In an era of compromise, Eric Miles Williamson refuses to toe the line. Watch and learn, dear reader, watch and learn."—Jerry Williams, author of Casino of the Sun and Admission
 
About the Author
Miles Williamson was named by France's "Transfuge" magazine one of the "douze grands ecrivains du monde"--one of the twelve great authors of the world. His first novel, "East Bay Grease," was a PEN/Hemingway finalist, and its sequel, "Welcome to Oakland," was named the second-best novel of 2009 and one of the top 40 novels of the decade by "The Huffington Post." His novel "Two-Up "was named one of the top 100 books of the 2006 by both "The Kansas City Star "and "The San Jose Mercury News." Williamson is Senior Editor of "Boulevard," Fiction Editor of "Texas Review," and Associate Editor of "American Book Review. "He has edited "Gulf"" Coast"," Pleiades" and "Chelsea," and he was elected to three terms on the Board of Directors of the National Book Critics Circle, serving as Vice President and chairing the Poetry and Criticism committees.
Advertisement