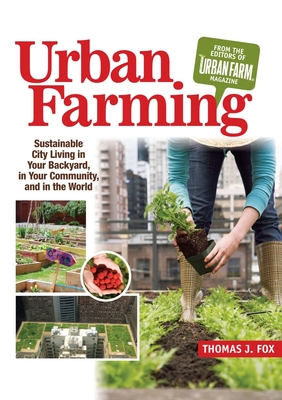 Urban Farming: Sustainable City Living in Your Backyard, in Your Community, and in the World (Paperback)
Sustainable City Living in Your Backyard, in Your Community, and in the World
Hobby Farm Press, 9781933958934, 416pp.
Publication Date: April 26, 2011
Description
It doesn t take a farm to have the heart of a farmer. Now, due to a burgeoning sustainable-living movement, you don t have to own acreage to fulfill your dream of raising your own food. Hobby Farms Urban Farming, from Hobby Farm Press and the same people who bring you Hobby Farms and Hobby Farm Home magazine, will walk every city and suburban dweller down the path of self sustainability. Urban Farming will introduce readers to the concepts of gardening and farming from a high-rise apartment, participating in a community garden, vertical farming, and converting terraces and other small city spaces into fruitful, vegetableful real estate. This comprehensive volume will answer every up and coming urban farmer's questions about how, what, where and whya new green book for the dedicated citizen seeking to reduce his carbon footprint and grocery bill.
About the Author
Thomas Fox is a graduate of Fordham University and Fordham University School of Law. An early experience working at Hargrave Vineyard (now Castello di Borghese), Long Island's pioneer winery, awakened in him an appreciation of the shared health of plants, animals, humans, and ecosystems. A former research editor at Reader's Digest, Fox has been published in The Washington Post, Wine Enthusiast, The Christian Science Monitor, and elsewhere. Fox lives with his family in New Jersey, where he is a passionate gardener and sometime urban farmer.
Praise For Urban Farming: Sustainable City Living in Your Backyard, in Your Community, and in the World…
"Many people know about our farm, Beekman 1802; but we hot our start growing heirloom vegetables on a rooftop in Manhattan...Urban Farming would have made our transition from city to country living much easier. A great guide for urban Farmers everywhere!" - Josh Kilmer-Purcell and Brent Ridge, stars of The Fabulous Beekman Boys (Planet Green)

"Covering everything from soil to bees, Urban Farming provides both practical advice and inspiration. Whether you've got a rooftop or a big suburban yard, you'll be motived to get out your shovel." - Erik Knutzen, co-author (with is wife Kelly Coyne) of The Urban Homestead and Making It: Radical Home Ec for a Post-Consumer World

"Urban Farming is a fantastic resource...Its detailed, readable text and beautiful photographs will make it an indispensable asset to the Urban Farming movement." - Scott Kellogg and Stacy Pettigrew, authors of Toolbox for Sustainable City Living.

Kirkus Reviews' Gardening Blog... "Fortunately, Thomas J. Fox's Urban Farming: Sustainable City Living in Your Backyard, in Your Community, and in the World is written for grown-ups. It considers politics and history as well as how-to, and informs me that as late as 1860 there were 50,000 hogs in Manhattan. And Fox actually sounds like an urban sophisticate. Before offering advice on fruit tree diseases, he advises, Get yourself a drink and sit down."
Advertisement