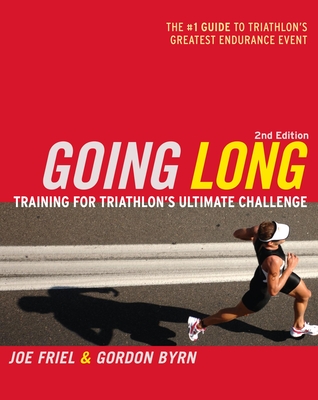 Going Long
Training for Triathlon's Ultimate Challenge
Paperback

* Individual store prices may vary.
Description
Internationally recognized coach and best-selling author Joe Friel teams up with ultra-endurance guru Gordon Byrn in this second edition of "Going Long," the most comprehensive guide to racing Ironman(r) distance triathlons ever written. Combining science with personal experience, Friel and Byrn prepare every triathlete, from the working age-grouper to the podium contender, for success in triathlon's ultimate endurance event.
Whether you are preparing for your first Ironman(r) or your fastest, "Going Long" will make every hour of training count. Inside this groundbreaking second edition from best-selling authors Joe Friel and Gordon Byrn you will find more than 40 sport-specific drills to improve your technique, making you more efficient at swimming, cycling, and running.
Sport-specific chapters outline the stages of development for each of the three disciplines of triathlon and describe drills to improve form and efficiency. A newly expanded section on training the mind explores the all-important psychological aspects of racing, including goal-setting and visualization. A detailed appendix includes key training sessions, workout examples, and strength training progressions.
In addition, proven key workouts for each sport and a complete strength training program will help you build the muscular endurance that is critical to Ironman success.
Time commitment, burnout, and injury are realities that every athlete must face in Ironman prep. Friel and Byrn offer a simplified approach for working triathletes to help them balance their training time with other obligations.
Also new to the second edition is a chapter on wellness and recovery from Dr. Jeff Shilt with invaluable information on monitoring and maintaining your health during the rigors of training. This new advice includes plentiful details on common aches and pains and will help you target nagging overuse injuries with an active recovery strategy to speed rehabilitation.
"Going Long" has long been the best-selling book on the subject of training for the Ironman. Now this completely revised new edition, Friel and Byrn directly advise the novice, intermediate, and elite triathlete, making it the most comprehensive and nuanced guide to Ironman training ever written.
"Going Long "is the book you will return to, season after season.
Praise For Going Long: Training for Triathlon's Ultimate Challenge…
"An in-depth guide to succeeding at Iron-distance triathlon. Ideal for anyone looking to life his or her game to the next level." — Triathlete magazine
"Going Long is a valuable read for any triathlete, not just those aiming for an Ironman®. This is a great resource for a large audience." — Triathlon Magazine Canada
"Going Long targets triathletes of varying ability and Ironman® aspirations. If you have one shot at the Ironman and training time is at a premium, then 22 pages on strength training may not be for you. However, the 21 pages on nutrition could determine your Ironman destiny." — IMPACT magazine
"Gordo and Joe have a unique way of helping the long-distance athlete to recognize what's important in fitting these events into one's life…In our age of information overload they give the self-coached athletes all the tools they need to succeed." — Scott Molina, coach and former professional triathlete
"25 years of active multisport coaching has proven that Joe Friel has an unprecedented understanding of endurance sports. As a multiple triathlon world champion, I would consider Joe as one of the leading figures in triathlon coaching today. Joe's professional approach and practical understanding of sports physiology has helped many endurance athletes of all abilities reach their full athletic potential." —Simon Lessing, 5-time Triathlon World Champion
"Whether you're a beginning triathlete or a seasoned pro, Joe Friel is the leading authority on triathlon training." — Ryan Bolton, member of the 2000 U.S. Olympic Triathlon Team
"In Going Long, Gordo Byrn and Joe Friel have combined their talents to provide a meaningful training resource for Ironman-distance racing." — George M. Dallam, Ph.D., former USA Triathlon National Teams Coach, co-author of Championship Triathlon Training
 
VeloPress, 9781934030066, 372pp.
Publication Date: January 1, 2009
About the Author
Joe Friel is one of the most recognized names in triathlon coaching and the best-selling author of "The Triathlete s Training Bible, Your First Triathlon, " and "The Cyclist s Training Bible." His clients include professional and amateur triathletes, duathletes, road cyclists and mountain bikers. He is a certified USA Triathlon and USA Cycling Coach and holds a master s degree in exercise science. Gordon Byrn is an elite long-course triathlete and coach certified by USA Triathlon, Triathlon Australia, and the American Swim Coaches Association. One of the best-known ultra-endurance athletes in the world, he has raced Ironman competitions in Hawaii, Australia, Canada and New Zealand."