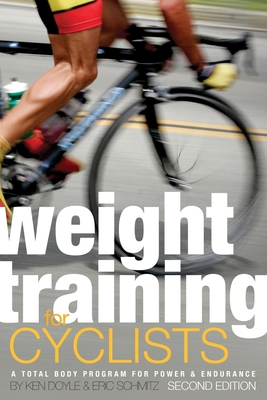 Weight Training for Cyclists
A Total Body Program for Power & Endurance
Paperback

* Individual store prices may vary.
Description
In addition to the powerful quads and chiseled calves they're known for, cyclists need strong core muscles and solid upper-body strength to use their power efficiently. Weight Training for Cyclists is the only book available that shows cyclists how they can get stronger to ride stronger.
This revised second edition presents new information on core strength, nutrition, stretching and warm-up. Now comprehensively illustrated with easy-to-follow drawings, the authors explain in clear terms how strength training in the weight room translates to endurance and power on the bike.
With the latest research on strength building buttressed by the most recent and effective equipment innovations, Weight Training for Cyclists presents a series of training plans that require only a fraction of the time that cyclists spend in the saddle. For newcomers and veterans alike, Weight Training for Cyclists will become their fundamental guide to better performance.
Praise For Weight Training for Cyclists: A Total Body Program for Power & Endurance…
"Whether you are a new or seasoned rider, this book is for you and offers great illustrations of the changing approaches to off-the-bike training." — Daily Peloton
"Weight Training for Cyclists covers everything you need to know. With detailed drawings of exercises that cover everything from stretching, upper, lower and core strength, as well as power development, you have a full training guide in your hands." — BicycleSmile
"Weight Training for Cyclists presents clear and precise exercises for cyclists in a clear and logical order, with easy-to-follow drawings. An ideal book to help you gain power and endurance." — Arrivee magazine
"A valuable resource for any cyclist. It not only gives you workouts, but it also takes you through finding a gym and a trainer, gym etiquette, the equipment, and more." —BikeWorldNews.com
"The book is perfect to keep cyclists busy in the gym during the long, colder winter months. Gives enough challenging exercises and a variety of workouts to keep cyclists occupied on being stronger for spring." — Salt Lake Tribune
"The volume is superbly illustrated with many line drawings showing a remarkable number of exercises." — TheWashingMachinePost.net
VeloPress, 9781934030295, 212pp.
Publication Date: November 1, 2008