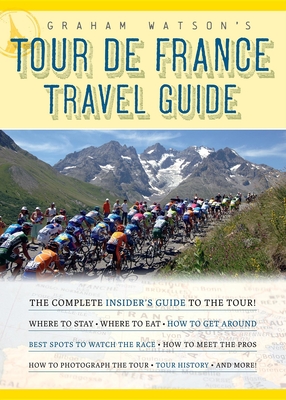 Graham Watson's Tour de France Travel Guide: The Complete Insider's Guide to the Tour! (Paperback)
The Complete Insider's Guide to the Tour!
VeloPress, 9781934030387, 340pp.
Publication Date: June 9, 2009
Description
"Graham Watson's Tour de France Travel Guide" lets cycling fans experience all the excitement of the Tour while negotiating its many daily obstacles with the confidence of a local. As cycling's leading photographer, Graham Watson has been in the right place at the right time during every stage of every Tour de France since 1977. No one knows how to get around the Tour like Graham. Graham shares his 31 years of Tour de France experience in this beautifully illustrated guidebook. Featuring over 200 of his award-winning photographs along with full-color maps, travel tips, checklists, and travel resources, this book presents a fresh and unique strategy for getting around the Tour's many opportunities for frustration to find a front-row seat for all the action. Learn where to eat, where to sleep, how to get around, how to see and photograph the race, and how to enjoy the greatest show on two wheels.
About the Author
Graham Watson has devoted his celebrated career to the art of cycling photography. His renowned work has been published in magazines, books, newspapers, posters, calendars, journals, and Web sites on every continent, and his reputation is founded on more than three decades of experience photographing the great cycling races of Europe, North America, Australia and Asia. He has covered the Tour de France each year since first seeing it in 1977 as a tourist, traveling today both within the Tour press corps and on his own to scout the best vantage points for his unique photography. An oenophile and gastronome, Graham has collected an extensive library of information on the best restaurants, hotels, bistros, brasseries, bars and auberges of France, which he shares in this insider's guide to the world's greatest bicycle race. And as the most experienced photographer still shooting the Tour, Graham's professional photography advice, in a dedicated chapter, provides unparalleled insight for camera enthusiasts aiming to capture the Tour in their own photographs.
Praise For Graham Watson's Tour de France Travel Guide: The Complete Insider's Guide to the Tour!…
"If you're heading to the Tour, or simply a cycling holiday in France, veteran cycling photographer Graham Watson's guide will prove to be a huge help, and entertaining too…Beyond its roots as a travel guide, Graham's book reveals photographic tips, includes 200 of his historic images, and provides the historical context that also makes this a great supplement for following the race at home, on TV or online." — VeloNews magazine
"Surprisingly fresh and immediate, even funny at times. Graham really captures the reality of following the race. A book of random details could easily miss the bigger picture, the enormity of the event. His in-between-the-lines insights are what make this book a gem." — RedKitePrayer.com
"Finally there is a practical guide for the traveller wishing to experience the Tour de France close up and personal. Graham Watson's Tour de France Travel Guide distills his 31 years of experience following la Grande Boucle into a compact but comprehensive volume that no fan of the Tour will want to be without. The final chapter is the pièce de résistance as Graham Watson, the celebrated photographer, reveals how you too can photograph the Tour de France. I suspect that this book will be the most expensive one you will ever buy since I defy anyone after reading Graham Watson's joyful-fan-prose to not want to book a flight to France." — Pezcyclingnews.com
"Graham Watson's Tour de France Travel Guide is engagingly and accessibly written and conveys the writer's evident enthusiasm for the delights of French cuisine, landscape, and winemaking even as it explains how to get along with recalcitrant French waiters or choose wine in a way that will impress them. This book is not just a guide to the Tour de France, it is worth reading as a guide to France itself, with a bunch of cycle racing thrown in for good measure." — RoadCyclingUK.com
"Engaging and informative. Watson's intimate knowledge of France is equal to his impressive creative talent and skills in photographing the Tour." — BikeRadar.com
"After 31 years on the job, cycling photographer Graham Watson knows a few things: how to photograph a bike race, how to get around France, and how to track down a nice meal." — PodiumCafe.com
"Even if you are not planning to visit the Tour next year, Graham Watson's Tour de France Travel Guide should prove to be an incredible travel resource for years to come. This book will leave you saying "some day, some day" and dreaming of the time that you will travel to see the grandest of the Grand Tours." — BikeWorldNews.com
"More than just a another traveler's guide book, Graham Watson's Tour de France Travel Guide is an intimate, all-encompassing guide to both the country and le Tour. Whether or not your trip actually materializes, devotees of the Tour will appreciate an escape from the dreary woes of the world (including cycling's doping issues) with this colorful and nostalgic journey through summertime France." — DailyPeloton.com
"Graham Watson is the only photographer ever pointed out by the commentary team while a race is in progress. This is a gem of a book and reveals a side to Watson that most of us probably didn't know existed—he's a very impressive and accomplished writer." — TheWashingMachinePost.net
Advertisement