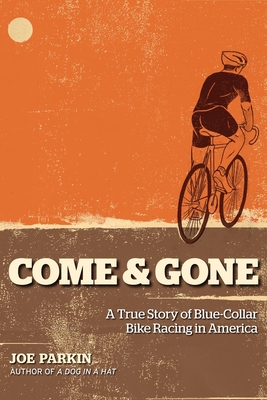 Come & Gone (Paperback)
A True Story of Blue-Collar Bike Racing in America
VeloPress, 9781934030547, 179pp.
Publication Date: April 1, 2010
* Individual store prices may vary.
Description
"There's something very approachable about the underdog, the guy who works as hard as anyone, but never achieves the stardom we all chase. Joe's candor is refreshing to read and entertaining as hell." -- PezCycling News
Come and Gone is the eagerly anticipated sequel to Joe Parkin's Belgian cycling classic, A Dog in a Hat, bringing Parkin home to the nascent American bike racing scene that would give rise to Lance Armstrong and the homegrown sport of mountain biking.
After five years of gritty, blue-collar bike racing in Belgium, Parkin flies back to the United States with empty pockets and no contract. He joins the elite Coors Lite road team as a key member, but the adjustment to domestic racing, with small crowds, rookie teammates, and poorly promoted events, is a letdown after the glory of racing in the European peloton.
Disillusioned, Joe is ready to hang up his cleats when he is offered a contract with a pro mountain bike team. The freshness of mountain biking proves to be an elixir: Joe's career blossoms and he rediscovers his love of the sport.
Come and Gone is a rare, frank, and intimate sports memoir about the lifestyle of the pro scene during the heyday of American mountain bike racing.
"The race descriptions are so realistic, you'll need a heart-rate monitor." -- USA Today
"A fun, barebones adventure through the eyes of a professional cycling journeyman." -- VeloNews
"An unflinching look at the grueling and often mundane world of professional cycling. Dirt geeks will appreciate the historical context as Parkin races in the blossoming mountain bike scene of the '90s and competes against legends such as Ned Overend and Tinker Juarez...An engaging coming of age story on the bike." -- Dirt Rag
About the Author
Joe Parkin has been an airplane pilot, sharpshooter, and professional cyclist. He represented the United States at the World Cycling and Cyclocross Championships. "Come and Gone" is the follow-up story to his previous novel "A Dog in a Hat." He lives in Santa Cruz, CA and is the editor of "BIKE" and "Paved" magazines.
Praise For Come & Gone: A True Story of Blue-Collar Bike Racing in America…
"Joe Parkin once again puts the reader in the saddle as he leaves the gritty blue-collar world of Belgian bike racing on a quixotic quest for personal redemption in the budding U.S. road and mountain bike racing scene of the 1990s. The race descriptions are so realistic, you'll need a heart-rate monitor." — Sal Ruibal, USA Today

"Like its predecessor A Dog in a Hat, Joe Parkin's sequel is a fun, barebones adventure through the eyes of a professional cycling journeyman. Dry, candid, and occasionally humorous, Parkin takes the reader inside the national and international cross-country circuits as he rubs elbows with the best in the sport and balances occasional brushes with greatness with more frequent implosions and disappointments." — VeloNews magazine

"Come and Gone is an unflinching look at the grueling and often mundane world of professional cycling. Dirt geeks will appreciate the historical context as Parkin races in the blossoming mountain bike scene of the '90s and competes against legends such as Ned Overend and Tinker Juarez. Parkin's humility, humor, and at times, indignation combine into an engaging coming of age story on the bike." — Dirt Rag magazine

"As Joe enters each new race, we have feeling that this time it will be different—a win, or a podium finish, or at least being in contention for something. But so often he just slips off the back, blows up, or simply does not finish. When we are so used to great comeback stories, it is a disappointment somehow, but Come and Gone smacks more of the exhaustions of real life." — PezCyclingNews

"Come and Gone isn't a glamorous work of literature. It doesn't tell of great or important things…The book's title is an appropriately stark and breezy description of the end of a career. Parkin conveys this sense of how hard it is to walk away, knowing you're good enough but somehow it hasn't worked out." — PodiumCafe.com

"Come and Gone doesn't romanticize the cycling world. What Parkin does well is capture how heartbreaking and frustrating it can be trying to break out of the amateur ranks. Come and Gone is an honest and unglamorous look at the effort required to be a professional cyclist and make a living racing your bike." — DailyPeloton.com

"It is Joe's hope that makes Come and Gone so fascinating. Because his name didn't become even bike-race-household, you know at the outset that his story will end in something other than triumph. What sustained Joe as a bike racer…is the book's great mystery." — RedKitePrayer.com

"Much like his previous saga A Dog In a Hat, Joe makes no effort in Come and Gone to candy coat his experiences, chronicling every high and low as he eked out a living on his bike. One part heartbreak, and two parts inspiration, his description of life in the trenches provides a glaringly honest perspective of every detail through the transition from one discipline of riding to another. It flawlessly conveys the myriad of emotions he felt, as if you were his sole confidant through the twilight of his career as a professional cyclist." — AllHailtheBlackMarket.com

"This is not exactly a love story. Come and Gone is more like a drawn out, running gun battle of motivation and desire constantly battling with the physical and emotional world of racing bikes. The book shows a passionate and hard-working rider making his way in a hard and humbling world. If you aspire to race professionally or want some insight to the less-than-glamorous aspects of the scene, Joe Parkin dishes it up for you in Come and Gone." — CrankCollective.com

"Come and Gone is a superlative record of the mindset and career of a "blue-collar" pro cyclist… If you've read A Dog in a Hat and were left waiting mid-career, Come and Gone is the perfect bittersweet finish. Together, they are the perfect cycling memoir." — TheWashCycle.com

"A Dog in a Hat…heralded the discovery of a rider who not only knew his place in the grand scheme of pelotons, but turned out to be a particularly fine practitioner of the written word. Parkin combines a degree of excellence on the bike with a remarkable facility on the word processor, so those pages are filled with despair, joy, fun, success, and satisfaction." — TheWashingMachinePost.net

"Come and Gone is a frank, humble and decidedly non-glamorous account of a racer who guts it out to hold his own against many of the sport's top names of the '90s. Parkin's story may be a tale of a racer who never quite finds the "big win" he's seeking, but how many of us ever really do? Come and Gone still rings true for the everyman and everywoman cyclist who's able to revel in the pain, deal with the bullshit and come back asking for more." — Cyclocross Magazine

"Come and Gone is not the book of a champion but rather of the guy who had a few good rides over thousands of races. This is something that most bike racers can relate to." — UrbanVelo.org

"Written in a light, colloquial tone… Come and Gone is tough to put down. A fun read. Parkin…isn't afraid to make a little fun of himself while providing a first-hand perspective of riding with legends." — GearJunkie.com

"Parkin has a unique diary-like style. You feel his legs getting tired, and you feel his elation at the victories, and his frustration with each loss." — BostonBiker.org

"Come and Gone is a tale of no-frills cycling that should be read by anyone thinking of making a living on their bike—not a cautionary tale, but rather a honest and often humorous story that simply tells it like it is." — CampyOnly

"Come and Gone is a snippet of bicycle racing from someone that was on the inside." — Embrocation Cycling Journal

"Come and Gone is a truly gritty look at the passionate career of a pro cyclist and his determination to keep trying." — BicycleSmile