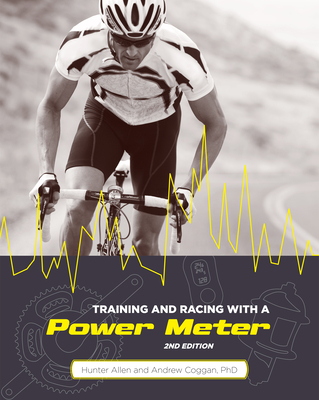 Training and Racing with a Power Meter, 2nd Ed. (Paperback)
VeloPress, 9781934030554, 326pp.
Publication Date: April 26, 2010
Other Editions of This Title:
Library Binding (12/15/2015)
* Individual store prices may vary.
Description
In only a few short years, power meters have become an essential training tool for amateur and pro cyclists and triathletes. The first edition of Training and Racing with a Power Meter was largely responsible for popularizing what was once an arcane technology understood by only a few elite coaches and trainers. Now the updated and revised second edition provides significant updates on technology, software tools, training protocols, and workouts, making the benefits of power-based training available to everyone. The new edition also includes specific information for triathletesthe fastest-growing segment in endurance sportsincluding a complete triathlon training plan. Other significant updates include reviews of the latest hardware, refinements and additions to training plans, additional case studies, more on monitoring fitness and chronic training loads, and revised and clarified artwork, charts and tables throughout. Training and Racing with a Power Meter, 2nd Ed., will continue to be the definitive guide to the most important training tool ever developed for endurance sports.
About the Author
ForewordPreface to the Second Edition Acknowledgments Introduction Abbreviations1 Why Train with a Power Meter? 2 Power Tools 3 Power-Based Training: Where to Begin? 4 Determining Your Strengths and Weaknesses 5 Using Power for Optimal Workouts 6 Interpreting the Data 7 Beyond Average Power 8 Using Power to Manage Performance 9 Developing aPower-Based Training Plan 10 Tracking Changes in Your Fitness 11 A Powerful Triathlete 12 Racing Faster with a Power Meter 13 Power for Other Disciplines: BMX, Cyclocross, Track, Ultra-Endurance14 Putting It All Together Appendix A: Additional Resources Appendix B: Workout guide Glossary Index About the Authors
Praise For Training and Racing with a Power Meter, 2nd Ed.…
"Training and Racing with a Power Meter is the ultimate guide to training with power. Hunter Allen and Andrew Coggan are, without a doubt, the most knowledgeable people on the planet when it comes to power meters." — Joe Friel, world-recognized endurance sports coach and author of The Cyclist's Training Bible
"Training and Racing with a Power Meter is a comprehensive look at the technological and physical aspects of power and fatigue-based testing. It also includes coaching and training sessions to target weaknesses highlighted by the data. It's essential reading." — BikeRadar.com
"Training and Racing with a Power Meter presents useful information on how to delve deeper into the numbers and recognize patterns that surface over a season. Every triathlete can benefit from the book's in-depth info and detailed graphs showing the numbers you need to kill the competition." — Triathlete magazine
"By far the best instruction manual I've seen is Training and Racing with a Power Meter. The book has enough scientific detail and analysis to satisfy even the most demanding numbers junkie, while remaining readable and useful to even the casual power enthusiast." — Stephen Cheung, PhD, PezCyclingNews.com
"Training and Racing with a Power Meter has enough scientific detail and analysis to satisfy even the most demanding numbers junkie while remaining readable and useful to even the casual power enthusiast." — Canadian Cycling magazine
"Once mastered, Training and Racing with a Power Meter could help provide any cyclist with the kind of information usually available only to elite pro riders." — Competitor magazine
"Better make sure you have the ultimate "instruction manual" for all things power." — DailyPeloton.com
"Training and Racing with a Power Meter is the most logically structured and comprehensive manual in print on how a rider can get maximum performance improvement from this device." — Active.com
or
Not Currently Available for Direct Purchase