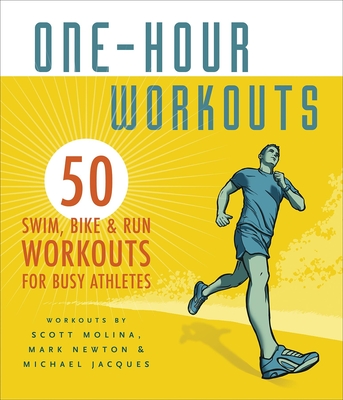 One-Hour Workouts (Spiral)
50 Swim, Bike, and Run Workouts for Busy Athletes
VeloPress, 9781934030585, 136pp.
Publication Date: September 1, 2010
* Individual store prices may vary.
Description
Perfect for the not-so-perfect day, these 50 smart, efficient workouts will help athletes keep their training on track.
About the Author
Scott Molina claimed 104 professional victories as a professional triathlete (1982-95), including the 1988 Hawaii Ironman World Championships, 6 USA professional championships, 50 USTS triathlons, 2 "World's Toughest Triathlon" titles, Ultraman World Championships, and 46 other podium finishes. In 1990, Scott married fellow professional triathlete Erin Baker. They live in Christchurch, New Zealand, with their three children. Scott currrently works as a coach.

Mark Newton is an exercise physiologist with a degree in Exercise and Sport Science from the University of Sydney. Over the past decade, Mark has worked with some of the world's leading athletes and sporting organizations with results that include 6 World Championship medals and athletes being selected into Olympic Games, Commonwealth Games, Goodwill Games, and World Championships. His athletes include triathlon heavyweights Chris McCormack and Normann Stadler. He lives in Sydney, Australia.

Michael Jacques has been around endurance sports longer than even he cares to remember as a runner since age seven and cyclist since age 15. Based in Wellington, New Zealand, with his wife, two kids, one cat, three birds, five bikes and way too many shoes and books, he coaches, writes and organizes events in between planning an attack on the 40-plus age group.

Amy White has been putting the swim, bike and run together for more than a decade. Her race resume includes three Ironman races and one age-group world championship. She has served as the editor of "Inside Triathlon," "Australian Triathlete" magazine and as Dan Empfield's first editor on Slowtwitch.com. She lives in Wellington, New Zealand, where she's happiest rolling over Moonshine on her bike, running Oriental Parade at night and drinking flat whites.
Praise For One-Hour Workouts: 50 Swim, Bike, and Run Workouts for Busy Athletes…
"One-Hour Workouts is a practical guide for on-the-go athletes who need to maximize their 60-minute training window. The book has something for athletes of all levels." — Triathlete magazine
"[One-Hour Workouts is] an antidote to a busy day—just the thing for days where a one-hour window is all we've got…This rugged, spiral-bound book will hold its own when tossed into a bag alongside your gear, and it's also compact, leaving plenty of room for that post-bike snack you're already looking forward to." — LAVA magazine
"I've been able to work almost all of [the One-Hour Workouts] into my training and I found them very effective...More than a few of them are now in my permanant rotation and are a welcome change. Interspersed throughout the book, the authors offer nuggets of advice and humor making it a great book for everyone from busy business professionals to homemakers." — TriEdge.net