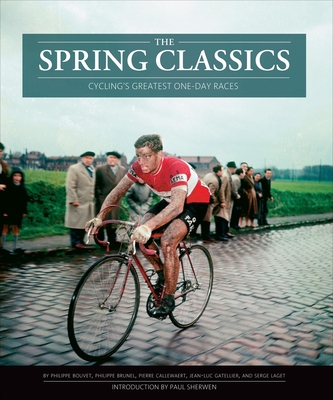 The Spring Classics (Hardcover)
Cycling's Greatest One-Day Races
VeloPress, 9781934030608, 223pp.
Publication Date: September 1, 2010
* Individual store prices may vary.
Description
Cycling's spring races are always the most anticipated of the year, not only because they herald the start of the season, but also because they are brutally difficult and spectacularly unpredictable. Known as the Spring Classics, these one-day races test cycling's toughest riders with the worst conditions imaginable sucking mud, choking dust, leg-numbing sleet, fanatic spectators, and Europe's narrowest, most bone-grinding country roads. Clattering through agrarian hamlets on routes established a century ago, the Spring Classics celebrate cycling's most glorious and meaningful history. Riders that perform well amidst the intensity of these one-day races are acclaimed as cycling's hard men.
"The Spring Classics" delves into the stories of Milan-San Remo, Ghent-Wevelgem, the Tour of Flanders, Paris-Roubaix, the Amstel Gold Race, La Fleche Wallone, and Liege-Bastogne-Liege through hundreds of rare and restored photographs presented in a lavish format. With authoritative text from cycling's expert sportswriters, "The Spring Classics" commemorates the riders, traditions, and secrets of cycling's greatest one-day contests.
About the Author
The authors are top sportswriters for "L'Equipe," a leading European cycling and sports publication.
Praise For The Spring Classics: Cycling's Greatest One-Day Races…
"Get your cobble on without breaking your collarbone. The Spring Classics…will keep you absorbed on rain-soaked April days—and just might inspire you to get out and ride regardless of the weather." — Bicycling magazine
"The Spring Classics is one of the most beautiful books it has ever been my good fortune to set eyes on. A monument in its own right." — TheWashingMachinePost.net

"Enjoyable and emotive, The Spring Classics is like a children's fairy tale book for cyclists, full of valiant and fallen heroes and monstrous terrain." — DailyPeloton.com

"Only a still photograph can capture the moment, provide a lasting and deep impression. The proof is The Spring Classics. The superb pictures, complemented by text from the best cycling writers, capture the beauty, the excitement, and the brutality fo the toughest races of all, the spring classics." — Cycling Weekly

"The Spring Classics delves deeply into the rich stories of the classics." — Peloton magazine
"After reading The Spring Classics, you'll be inspired to ride from your heart, ignoring the pleas from your legs and friends alike. The images gave me chills." — RedKitePrayer.com
"The Spring Classics is for die-hard fans. The things I care about are all contained within this book. Hard man single-day racing. Great style from racers. Cool cycling photography from the days of yore and also from not that far back." — Embrocation Cycling Journal

"If you've never heard of riders like Coppi, Kelly, De Vlaeminck, and Moser, it's time to learn more about the epic history of our sport. The Spring Classics delves into the one-day events that have helped define professional road cycling. The classics are the most prestigious, longest-running events in cycling—the domain of warriors—and this coffee table book tells the stories of those races where men became legends." — VeloNews magazine

"The Spring Classics emphasizes photographic composition and scenery, and the result is a beautiful photo book. The text is informative and conveys the passion that these races evoke. The Spring Classics is a treat for fans." — Bicycle Quarterly
"The work is smartly written and it is well illustrated. All of the great names are in the book. No rider who made an impact on the classics is forgotten. Epic stories abound; the book lays out the drama that attracts many to cycling and takes the reader over some of the most important terrain in cycling." — Roadcycling.com
"The Spring Classics, with its fascinating stories and insistent action photographs, captures the emotions of these intense races where, after all, there really is no tomorrow. The strength of this large-format book is in its highly-detailed photographs conveying expectation, effort, exhaustion, disappointment, triumph.As good as the accompanying essays are, the images are usually more persuasive and certainly more moving." — PezcyclingNews.com
"Dig into the glory and history of some of cycling's iconic races with The Spring Classics. The book serves as a good primer to what made these races the classics that they are." — BikeWorldNews.com

"A fantastic coffee table book…resplendent with amazing black and white photos of old time bike racers showing their all. A real gem." — BostonBiker.org

"This homage to all the classics is…about endeavour, excitement, battle, character, and those old chestnuts pain and suffering." — TheWashingMachinePost.net

"A lavishly illustrated hardcover coffee table book that introduces readers to cycling's most famous one-day races in a format that includes insightful commentary from the sport's top writers." — Competitor magazine

"For real aficionados and the riders themselves, the one-day classics hold a special place on the calendar. This is a hard sport and The Spring Classics brings home all its pain and glory. The text…captures the special challenges of each race, its great rides and riders." — Lightweight News

"The Spring Classics doesn't awe you with a new way to tell these stories. Instead, it respects the wondrous material and lets it breathe." — PodiumCafe.com


 
or
Not Currently Available for Direct Purchase