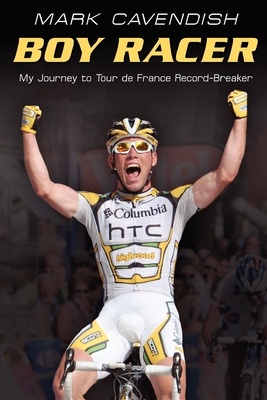 Boy Racer (Paperback)
My Journey to Tour de France Record-Breaker
VeloPress, 9781934030646, 288pp.
Publication Date: June 1, 2010
* Individual store prices may vary.
Description
""" Boy Racer" unmasks the manic, brutal world of professional cycling from the candid viewpoint of the sport's brash young superstar, Mark Cavendish. Written off as fat and useless in his youth, Cavendish's hunger for success and his sheer natural ability has forged him into one of cycling's youngest phenoms -- and one of cycling's most accomplished sprinters.
Some have called him cocky, but to those who dislike his style, Cav will shrug his shoulders and reply, "I know I'm good. There's no point lying about it." Cav's fearlessness in the saddle and on the record has earned him controversy and the respect of his competitors and fans.
"Boy Racer" brings readers into Cav's head as he sprints into cycling's canon of larger-than-life riders.

About the Author
Born and raised on the Isle of Man, Mark Cavendish became a world track champion as a teenager in 2005, a Commonwealth Games gold medalist a year later, and in 2008 regained his world title on the track with British teammate Bradley Wiggins. After switching his focus to the more glamorous world of road cycling, Cavendish set a new record of four stage wins in the 2008 Tour de France, and won the prestigious Milan-San Remo one-day classic in 2009. Widely regarded as the most exciting and charismatic young rider to grace the sport in years, Cavendish rides for the American cycling team HTC-Columbia and will be the most closely watched sprinter in the pro peloton in 2010.
Praise For Boy Racer: My Journey to Tour de France Record-Breaker…
"Mouthy former fat kid races bikes, kicks ass, hilarity ensues." — Bicycling magazine
"Boy Racer is an emotional, fast-paced and direct account of Cav's transformation from awkward chubby teenager to world champion and Tour stage winner." — VeloNews magazine
"Like being hard-wired into the brain of the world's fastest sprinter. The closest to finding out what it feels like to be in the midst of a bunch sprint." — Cycle Sport magazine's "Best 50 Cycling Books of All Time"
"Boy Racer is Mark Cavendish's brash, brutal and honest story of his life on the bike, full of the sound and fury of hand-to-hand combat at the finish line. Cavendish holds nothing back." — Sal Ruibal, USA Today
"Boy Racer is without doubt an entertaining read. It feels as though Cavendish is talking directly to you, and he is, as you would expect, brutally honest. Boy Racer then goes at least some way in giving us an insight into the psyche of Cavendish and as a result makes fascinating pre-Tour reading." — DailyPeloton.com

"Boy Racer . . . catch[es] the inner conflict between the impetuousness that makes Cavendish such a daunting competitor and the introspection that makes him such an interesting person." — The Guardian

"Boy Racer is as interesting and as maddening as Mark Cavendish himself. This highly entertaining memoir is a good insight into one jumpy sprinter's brain." — PezCyclingnews.com

"Refreshingly frank and entertaining." — Scotland on Sunday

"This is straight from the gut writing…showing a candid view of life in the peloton that most of us never get to see. Love him or hate him, if you're a fan of cycling, Boy Racer will give honest insight into the politics of the peloton." — BikeWorldNews.com

"Boy Racer is essentially a masterclass in the art of winning relayed through the eyes of a young, hungry and sometimes impatient embryo superstar with a penchant for entertaining industrial language. It is also highly personal and revelatory and gives you a unique insight to one of Britain's most successful and respected sportsmen worldwide." — Daily Telegraph

"Boy Racer is a fascinating ride to the top of professional cycling from humble beginnings. The book totally changed my perspective on Cavendish, and will do the same (for better or for worse) for any cycling fan that sits down and gives Boy Racer a chance. Cavendish's true personality shines through every one of the 352 pages." — BikeRumor.com

"Boy Racer not only supplies a kind of autobiography of Cav's early years, but also gives the reader a glimpse into life on the Tour de France at a level very different from superstars like Lance Armstrong. Cav offers excruciating detail of what it means to work at the back of the field just trying to hang on above the time cut-off; or taking on some mountain climbs that certainly do not favor the sprinters.  There's a kind of wonderment, sincerity, and even naïveté to the writing, informed by the knowledge that nothing is ever given in sports or in life." — TheWashCycle.com

"Few have brought the terrifying and visceral art of sprinting to life. Boy Racer redresses the balance." — The Times

"This book surprises and inspires with outspoken views, insider insights and a life story to date full of fantastic highs and devastating lows. With the 2008 Tour de France as a backdrop, Cavendish takes us on a whirlwind tour of his life so far, a meteoric rise from young Isle of Man 'scally' to double World Champion track star. Along the way we learn of his apprenticeship with the GB track development team, getting taken on by the infamous T-Mobile squad (now Columbia-Highroad), and winning the Milan-San-Remo classic. Inspiring reading. . . ." — spoke.ie

"Offers a unique account of the world's fastest sprinter." — roadcyclinguk.com

"I have read a large number of sporting autobiographies in my time; some very good, many distinctly mediocre. This might just be the best one I have ever read.
"The book reads in much the same way the man himself conducts himself in interviews: He shoots from the hip with his heart on his sleeve, occasionally inserting foot in mouth. But anyone who has ever seen Cav speak would expect no less; in a PC, PR-conscious world, here is a sportsman who is as brutally honest as he is fast. At times it is painfully obvious who he does and does not respect in the cycling world, and yet he is surprisingly self-critical, self-effacing, and not afraid to admit when he has been proven wrong about someone. The book is full of little insights into the mindset of a master practitioner and behind-the-scenes revelations of what it is like to be a professional road cyclist, which make this a cut above the average sporting autobiography. Add this to the fleshing out of a personality far more complex, meticulous, and magnanimous (to his team) than the one-dimensional cocky narcissist sometimes portrayed in the media, and what you have here is a compelling tale that had me tearing through the pages much like the man himself does when he has the sniff of the finish line in his nostrils.
"Boy Racer was unputdownable. I'll be first in line to buy the next chapter of the story of this incredible young man." — sportingreflections.blogspot.com

"Love the man or hate him, you won't find much in Boy Racer to change your mind. It's pure Cav—honest, outspoken, occasionally aggressive, imbued throughout with that trademark self-confidence you already find either charming or annoying. Even if you're not a fan, this kind of peek into the peloton makes the book well worth reading. But if (like me) you do harbor a certain fondness for the Manx Express, chances are you'll tear through this book with sheer delight and find yourself quoting bits of it for weeks to come." — podiumcafe.com

"Can a youngster obsessed with barging his way through several other bicycle missiles in a 70kph scrabble string more than a couple of words together? Happily, the answer to that one is a resounding yes. This is an exceptionally well-written book; well constructed, never tedious, well paced, and above all else, highly interesting. From the give a sprinter an even break point of view, it ill behooves any of us to criticize until we know the full story, or at least the full story to date, and Boy Racer provides us with all the ammunition we need.
"There won't be any difficulty getting to [the final page]; probably more of a problem putting it down in between. Quite a surprisingly good book."
—thewashingmachinepost.net