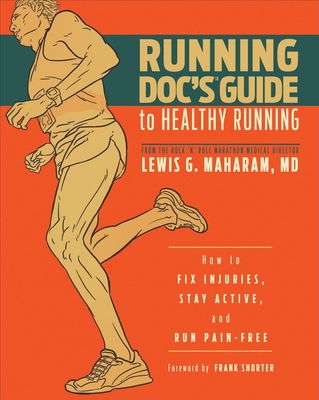 Running Doc's Guide to Healthy Running (Paperback)
How to Fix Injuries, Stay Active, and Run Pain-Free
VeloPress, 9781934030684, 228pp.
Publication Date: April 1, 2011
* Individual store prices may vary.
Description
Running Doc's comprehensive book on running injuries can help you solve your aches and pains for years of healthy running.
For a runner, injury is a terrible fate. Yet every year, nearly half of America's runners suffer an injury severe enough to bring them to a halt. Trust the Running Doc z to get you back on your feet. Dr. Lewis G. Maharam, MD, is the most trusted authority on running health and running injuries, and his guide will help you avoid or fix nearly every common running-related injury. If you're already injured, Running Doc's book will help you diagnose, treat, and recover to run pain-free.
From head to toenails, Running Doc's Guide to Healthy Running is the most comprehensive guide to running injuries and preventative care. Running Doc offers simple, effective treatments for every common running injury and also delivers easy-to-follow advice on the best way to prepare for and enjoy running events of all types and distances.
Running Doc's Guide to Healthy Running addresses:
How running is good for your health

Healthy training programs for races and running events

Choosing running shoes for your gait and feet

Guidelines for running in cold weather, hot weather, and dry climates

Safe and healthy marathon and half-marathon training

Running with a cold, the flu, and aches and pains

Feet and ankle injuries including plantar fasciitis, Lisfranc, sprains

Legs and knee injuries including Runner's Knee, IT Band Syndrome, tendinitis

Back pain from sciatica, piriformis syndrome, and related issues
No matter your malady, Running Doc has got you covered. Get healthy and get back on your feet with Running Doc's Guide to Healthy Running.
About the Author
Lewis G. Maharam, MD is one of the world's most extensively credentialed and well-known running health experts. Better known as The Running Doc, Maharam is the medical director of the Rock 'N' Roll Marathon series (19 races and over 380,000 entrants nationwide projected for 2011) and the former medical director of the New York Road Runners and the ING New York City Marathon. He is Chairman of the Board of Governors of the International Marathon Medical Directors Association (IMMDA) as well as National Medical Director for the Leukemia-Lymphoma Society's Team in Training program. He has appeared on World News Tonight, Today, Good Morning America, Inside Edition, CNN, and Fox News. Maharam is a frequently cited source of medical advice by writers for "Sports Illustrated, Fitness Magazine, Self, Shape, Redbook, Time, Newsweek, New York Times, USA Today, New York Daily News, Newsday, Conde Nast Sports for Women, Glamour, Cosmopolitan, Jane, Men's Journal, Runner's World, Woman's Day, McCall's, Reader's Digest, New York Post, Allure, US News and World Report, Cooking Light," and more.
Praise For Running Doc's Guide to Healthy Running: How to Fix Injuries, Stay Active, and Run Pain-Free…
"Dr. Maharam's new book is the perfect instruction manual for both die-hard runners and the rest of us. Running Doc's Guide to Healthy Running serves as a portable doctor on your bookshelf, ready to use at any time." — New York Daily News
"Running Doc's Guide to Healthy Running allows you to learn about your body, how to avoid and fix injuries and be pain-free. The Injury Manual 101 section is particularly helpful. No more Googling remedies for your ailments." — USA Triathlon Life magazine
"A comprehensive, illustrated guide to running injuries and how to prevent them." — Denver Post
"The Doc writes in an easy- to-read style about why running is good for us and how to keep from getting injured, ill or worse… The section on injuries is superb with great illustrations." — Run Britain
"If you've got a sports injury, Dr. Maharam is the go-to doctor and his book is the go-to resource for patients and doctors." — Steven Van Camp, MD, FACSM, former president of the American College of Sports Medicine
"Dr. Maharam is at the forefront of exercise-related medical issues in the U.S. and around the world. In his work as a marathon race director, he has done much to make the sport of distance running safer and more enjoyable for hundreds of thousands of runners." — Amby Burfoot, Runner's World magazine
"When runners get hurt, they fly to Dr. Maharam!" — Meb Keflezighi, 2009 New York City Marathon winner and 2004 Olympic silver medalist
"Dr. Maharam is the definitive medical resource for the running and walking industry." — Jenny Hadfield, running coach and columnist for Runner's World and Health magazines and author of Running for Mortals
"Dr. Maharam is, simply put, the most knowledgeable and articulate medical professional in the world of endurance athletics. He delivers his advice with the unique combination of solid medical opinion and common sense advice." — John "The Penguin" Bingham, running columnist and author of An Accidental Athlete
or
Not Currently Available for Direct Purchase