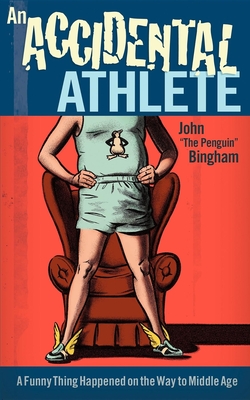 An Accidental Athlete: A Funny Thing Happened on the Way to Middle Age (Paperback)
A Funny Thing Happened on the Way to Middle Age
VeloPress, 9781934030738, 208pp.
Publication Date: August 1, 2011
* Individual store prices may vary.
or
Not Currently Available for Direct Purchase
Description
A funny thing happened on my way to middle age. I became an athlete. And not just any athlete, but a runner--all without taking a running step until I was 43 years old.

Known by fans as "The Penguin" for his back-of-the-pack speed, John Bingham is the unlikely hero of the modern running boom. In this warm, witty memoir, the best-selling author and columnist recalls his childhood dreams of athletic glory, sedentary years of unhealthy excess, and a life-changing transformation from couch potato to "adult-onset athlete."

Overweight, uninspired, and saddled with a pack-and-a-half-a-day smoking habit, Bingham found himself firmly wedged into a middle-age slump. Then two scary trips to the emergency room and a conversation with a happy piano tuner led him to discover running--and changed his life forever.

In turns inspiring, poignant, hilarious, and heartbreaking, An Accidental Athlete is the story of the unexpected joys of running--the pride of the finisher's medal, a bureau-busting t-shirt collection, intense back-of-the-pack strategizing. And one man's discovery that middle age was not the finish line after all, but only the beginning.
About the Author
Since his column, "The Penguin Chronicles," started in "Runner's World" magazine in 1996, John "The Penguin" Bingham has become one of the running community's most popular and recognized personalities. Now, as a featured columnist for "Competitor "Magazine, national spokesperson for the Leukemia & Lymphoma Society's Team in Training and principal announcer at the Rock 'N' Roll Marathon series, his popularity continues to grow. Prior titles include "The Courage to Start: A Guide to Running for Your Life"; "No Need for Speed: A Beginner's Guide to the Joy of Running"; "Marathoning for Mortals: A Regular Person's Guide to the Joy of Running or Walking a Full or Half Marathon"; and "Running for Mortals: A Commonsense Plan for Changing Your Life With Running."
Praise For An Accidental Athlete: A Funny Thing Happened on the Way to Middle Age…
"The Penguin does it again! An Accidental Athlete is a charming, witty and relatable tale of John finding himself through running. In this great book he shares his journey with us one stride and two laughs at a time." — Deena Kastor, American marathon record holder, Olympic medalist, and 12-time national champion
"John Bingham is Edward Abbey, Frank Shorter, Brad Pitt, and George Carlin all wrapped in one. John as writer has a lesson or tale in all his adventures." — Bart Yasso, Runner's World magazine
"Looking for some motivation to start running and improve your fitness? You're sure to find some inspiration from John Bingham's new memoir An Accidental Athlete." — ESPN.com
"Most of us can truly identify with John Bingham's story: There are no gold medals, no laurel wreaths, no world records. But John shows us that we have something more important: a chance, if we have the will and believe in ourselves." — Dave McGillivray, Boston Marathon race director
"In An Accidental Athlete, Bingham…describes his journey from a clumsy wannabe-athlete kid to the realization of a dream: that by being a runner, especially a back-of-the-packer, you are truly an athlete…Bingham's witty, engaging prose will [provide] you with a few hours of delightful distraction." — Canadian Running magazine
"John 'The Penguin' Bingham has touched a nerve with runners worldwide like no one in the last decade. He's funny but serious, informal but inspirational." — Amby Burfoot, Runner's World magazine
"For anyone who might feel overwhelmed or overly fond of couch time, John Bingham's charming memoir can help....[Bingham's] sense of humor...adds to the sweet appeal of the story, providing enough encouragement to anyone looking to exercise more." — ForeWord magazine
"This charming, gently funny autobiography from the big-hearted Bingham is a testament to hangin' in there…If more people were like him, where each event, run, mile, step is a celebration, the world would be a better-and healthier-place." — Library Journal
"Bingham uses a great knack for storytelling, and some really funny examples, in his new book about becoming a middle-aged athlete…Some of the best stories (perhaps because I can relate to them) are those of the real racing done at the back of the pack." — TriMadNess
Advertisement