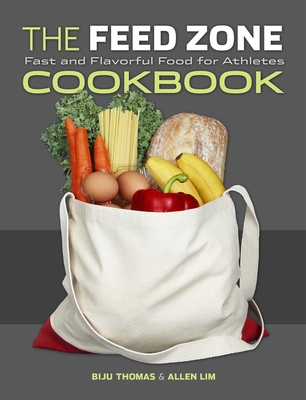 The Feed Zone Cookbook
Fast and Flavorful Food for Athletes
Hardcover

* Individual store prices may vary.
Description
The Feed Zone Cookbook offers 150 athlete-friendly recipes that are simple, delicious, and easy to prepare.
When Dr. Allen Lim left the lab to work with pro cyclists, he found a peloton weary of food. For years the sport's elite athletes had been underperforming on bland fare and processed bars and gels. Science held few easy answers for nutrition in the real world, where hungry athletes must buy ingredients; make meals; and enjoy eating before, during, and after each workout, day after day.
So Lim set out to make eating delicious and practical. His journey began with his mom, took him inside the kitchens of the Tour de France, and delivered him to a dinner party where he met celebrated chef Biju Thomas.
Chef Biju and Dr. Lim vetted countless meals with the world's best endurance athletes in the most demanding test kitchens. In The Feed Zone Cookbook: Fast and Flavorful Food for Athletes, Thomas and Lim share their energy-packed, wholesome recipes to make meals easy to prepare, delicious to eat, and better for performance.
The Feed Zone Cookbook provides 150 delicious recipes that even the busiest athletes can prepare in less time than it takes to warm up for a workout. With simple recipes requiring just a handful of ingredients, Biju and Allen show how easy it is for athletes to prepare their own food, whether at home or on the go.
The Feed Zone Cookbook strikes the perfect balance between science and practice so that athletes will change the way they think about food, replacing highly processed food substitutes with real, nourishing foods that will satisfy every athlete's cravings.
The Feed Zone Cookbook includes
150 delicious recipes illustrated with full-color photographs
Breakfasts, lunches, recovery meals, dinners, snacks, desserts
Dr. Allen Lim's take on the science and practice of food
Portable real food snacks, including Lim's famous rice cakes
Dozens of quick-prep meals for before and after workouts
Shortcuts, substitutions, and techniques to save time in the kitchen
Over 100 gluten-free and vegetarian alternatives to favorite dishes
Praise For The Feed Zone Cookbook: Fast and Flavorful Food for Athletes…
"The Feed Zone Cookbook features unique, simple recipes for quick meals that will help fuel your workouts and speed recovery." — Men's Journal "The beauty of The Feed Zone Cookbook is that it is practical and based on real-life experience—not just theory...Let The Feed Zone Cookbook help you find your way into the kitchen with enthusiasm." — Active.com "[The Feed Zone Cookbook is] packed with recipes that will not only offer healthy alternatives, but actually taste good as well." — NBCSports.com "The chapter on homemade energy bars, which are made from rice and eggs and other savories, is probably the single most unique feature. However, there's also tons of straightforward meal recipes (breakfast, lunch, and dinner) that are both quick and easy to prepare." — Outside magazine "The foods described are intentionally simple to prepare, impressively flavorful, easy to digest…Just honest to goodness recipes made with real food." — BikeRadar "The Feed Zone Cookbook is allowing us to have our cake and eat it too…Packed with tasty recipes." — Paved magazine "The Feed Zone Cookbook is the ultimate guide for triathletes who want to support their training with delicious, wholesome food." — Triathlete magazine "Dr. Lim's experience is just the kind of thing us serious athletes look for in a cookbook author….For the athlete on your list who trains hard and appreciates fresh, wholesome food and creative fusions of flavors, The Feed Zone Cookbook won't disappoint." — LAVA magazine "[A cookbook] geared towards athletes that actually has recipes that make you excited to hit the kitchen…Creative, beautiful, and inspiring…straightforward, yummy, and yes, actually good for us athletes." — 3/GO magazine "Biju and Allen actually got me into the kitchen, cooking these recipes." — Levi Leipheimer, professional cyclist for Omega Pharma-Quickstep, from his foreword to The Feed Zone Cookbook "Biju makes cooking high-quality, nourishing food easy. His recipes are mind-blowingly simple, but their flavors and quality are as high as a five-star restaurant. Biju will inspire you to want to cook." — Matthew Busche, professional cyclist for Team RadioShack Nissan Trek and U.S. national road cycling champion "Allen Lim has helped me fill my gas tank for many years: everything from breakfast burritos in Georgia to rice cakes and scrambled eggs in the Alps. Some of Lim's foods are scientific and others just feel good, but one ingredient was always present: passion from the Asian Equation." — Christian Vande Velde, professional cyclist for Team Garmin-Sharp
VeloPress, 9781934030769, 320pp.
Publication Date: November 1, 2011
About the Author
Dr. Allen Lim and chef Biju Thomas are authors of the best-selling Feed Zone Series of cookbooks including The Feed Zone Cookbook, Feed Zone Portables, and Feed Zone Table.Chef Biju Thomas is a professional chef known for light, simple dishes bursting with bold flavors. He has designed the menus of many successful restaurants in Denver and Boulder, Colorado and has launched his own restaurant, Biju's Little Curry Shop, in Denver's up-and-coming RiNo neighborhood.In 2009, Chef Biju teamed up with sports physiologist Dr. Allen Lim to improve the everyday diets and performance nutrition of professional cyclists and their teams. In the years since, Chef Biju has cooked for dozens of elite professional cyclists, teaching them the craft of cooking. His Feed Zone series of books with Lim, The Feed Zone Cookbook and Feed Zone Portables, feature 225 easy, healthy recipes and snack ideas for an active lifestyle. Biju has been a chef for pro cycling teams and coordinated food for one of the sport's biggest races, the Tour of California. Biju has also been the chef for the Dempsey/Del Piero Racing, a Grand-Am and Le Mans motorsports team. He also contributes recipes to Skratch Labs, Omega Juicers, and Map My Fitness. Dr. Allen Lim is a sports physiologist, cycling coach, and a founder of Skratch Labs, a manufacturer of performance hydration mixes and the world's first active nourishment company. Beginning his coaching career with Jonathan Vaughters' TIAA-CREF cycling development team, Lim developed a method of testing for biological markers of performance enhancing drugs that led to cycling's Biological Passport. Lim was director of sport science for Garmin and RadioShack professional cycling teams and is the only American scientist to have worked and cooked for teams at the Tour de France. Lim has worked with dozens of top American cyclists to improve their performance and nutrition.