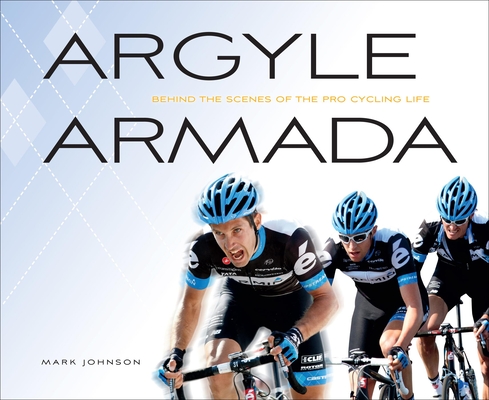 Argyle Armada (Hardcover)
Behind the Scenes of the Pro Cycling Life
VeloPress, 9781934030813, 200pp.
Publication Date: March 1, 2012
Description
More than a book about racing, this book is a portrait of life as a member of a pro-cycling team during a time of painful transition for the sport. Johnson unveils the dramatic forces that Garmin-Cervelo must navigate as team founder Jonathan Vaughters tries to push forward his vision of a reformed sport.
About the Author
Mark Johnson has covered cycling as a writer and photographer for national and international publications since the 1980s. His work has been published in cycling titles including "VeloNews "in the United States, "Cycling Weekly" in the UK, "Velo "in France, and "Ride Cycling Review" in Australia, as well as general-interest publications including "The Wall Street Journal" and the "San Diego Union-Tribune." A category 2 road cyclist, Mark has also bicycled across the United States twice and completed an Ironman triathlon. He has a PhD in English literature from Boston University and has worked as a freelance writer and photographer for the Slipstream Sports cycling team since 2007. His other passion is surfing, which he does frequently from his home in Del Mar, California.
Praise For Argyle Armada: Behind the Scenes of the Pro Cycling Life…
"A happy medium between writing and photography…An insightful journey." — BikeRumor.com

"Mark Johnson has done a great job portraying an unrestricted view of the inner workings of the annual traveling circus that is pro cycling. Inspirational photography paired with an uncanny recollection of anecdotes makes Argyle Armada a must read." — Peter Stetina, professional cyclist for Team Garmin-Barracuda

"Argyle Armada brings back a lot of emotion of a long season. It's amazing to see what a full year looks like in photos. There are always more races than I remember. Argyle Armada is a great keepsake from a great year." — Christian Vande Velde, professional cyclist for Team Garmin-Barracuda

"By and large the illustrative part of this volume is finely judged and highly entertaining." —TheWashingMachinePost.net

"Argyle Armada is not so much a romp through Garmin-Cervelo's 2011 Tour as it is metaphor for a physical culture on the cusp. Mark Johnson's words and images chronicle how a young upstart group uses commercial and strategic panache to announce the final arrival of les cyclistes américains. Found within the text are answers to why professional cycling has flourished on the Continent for 150 years but, until recently, found little purchase in domestic sports media and fandom. Johnson rides inside the left ventricle of the team for a full year and the reader is rewarded with a raw and visceral look at how professional cycling is adapting to post-millennium strategies. [Argyle Armada is] a smart book written and photographed by a smart guy." — Scott Tinley  
Advertisement