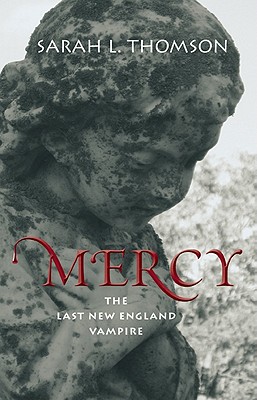 Mercy: The Last New England Vampire (Paperback)
The Last New England Vampire
Islandport Press, 9781934031360, 178pp.
Publication Date: October 1, 2011
* Individual store prices may vary.
or
Not Currently Available for Direct Purchase
Description
Fourteen-year-old Haley is struggling to cope with her stepmom and baby brother, with her beloved cousin's terminal illness, and with dropping grades at school. When she digs deep into her family history for a school project, she uncovers a disturbing New England tradition and a ghostly past. Haley must overcome her doubts and confront a vampire in order to save herself and her family. Inspired by a true New England story, Mercy is accomplished children's author Sarah L. Thomson's first book for Islandport Press.
About the Author
Award-winning author Sarah L. Thomson has published more than twenty-five books for young readers. Her young adult titles include Dragon's Egg (Junior Literary Guild Premier Selection and Maine Lupine Award winner, 2007), The Dragon's Son, which Booklist called a spellbinding tale of love, intrigue, and betrayal, The Manny (worthy of Jane Austen, according to the Washington Post), The Secret of the Rose, and The Young Reader's Edition of Three Cups of Tea (a New York Times bestseller). A former children's book editor for HarperCollins and Simon & Schuster, she now lives and writes in Portland, Maine.
Praise For Mercy: The Last New England Vampire…
 Paranormal mystery meets family drama in a fictionalized, modernized exploration of a historical suspected vampire tragedy. 
Over 100 years after the Mercy Brown vampire incident in Exeter, R.I., Mercy's fictional modern relative re-opens the case. Haley, a 14-year-old doing a family-history project for school, picks Mercy not just because of the fame of the case or that she was an alleged vampire, but because of her own grieving. Along with the stresses of fitting into a new family structure her parents are divorced, bringing a stepmother and 2-year-old half-brother into her life she also grieves the looming death of her terminally ill, favorite cousin, Jake, whose medical mystery no doctor has been able to diagnose or treat. A mysterious, standoffish older relative, Aunt Brown, provides a family tree and haunted glove that serve as evidence and a way to connect with the ghosts of the family's past...Thomson (Dragon's Egg, 2010, etc.) generally writes a likable and appealing lead character, capturing both Haley's grief over her family and her difficulties finding where she fits into their lives.- Kirkus Review
"Thomson brings an historical bent to the very popular vampire theme. New England s battle with tuberculosis was an extremely frightening time, as no one could yet explain how the disease traveled or why certain people fell ill. Thomson seamlessly merges the historical and the chilling in this short tale. Chapters alternating between Haley and Mercy s viewpoints take readers through the generations, as Mercy searches for a way to finally stop her undead sister s murderous ways. Teens sick of the paranormal trope, yet still looking for supernatural chills, will enjoy this unique new take on the vampire and reluctant readers will enjoy its concise length. School and public libraries could enhance several facets of their collections with this title."
-- VOYA
Disturbing historical events serve as the inspiration behind Sarah L.Thomson's latest book "Mercy, The Last New England Vampire." Unlike the romanticized vampires in much popular fiction, Thompson explores the more chilling side of vampires from old New England folklore and superstition in this spooky middle-grade novel with surprising depth.
Thomson creates a spectacularly creepy and suspenseful mood for the book...The general increase in tension makes the short book move very quickly, keeping it engaging for reluctant readers. With so many vampire/paranormal books available, comparison to everything from Twilight to Goosebumps could be made, but Thomson avoids becoming hackneyed or trite by simply being authentic in her paranormal elements and her characters. The traditional New England vampire, along with the rather gruesome ritual associated with Mercy, are truly different and are inherently darker than some fabricated stories. ...[Haley's] struggles to cope with change, death, and everyday challenges capture what many readers will deal with, grounding the horror and fantasy elements and giving her a bit more depth.With "Mercy," the accomplished, award-winning Thomson has another title that will strongly entice readers.ForeWord Book Reviews
Barnes and Noble Review's Best Young Adult Fiction of 2011 (Top Ten List) "... a refreshing reminder that much of what we call supernatural phenomena are very human indeed." 
-- Amy Benfer, Barnes and Noble Review
Advertisement